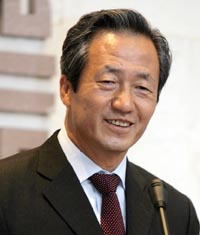 The United States and South Korea: Changing Relations
MONG JOON CHUNG
TUESDAY, JANUARY 23, 2007
LUNCH 11:45 a.m. LECTURE 12:15 p.m.
As a result of North Korea's decisions to launch several ballistic missiles and to test a nuclear device in 2006, the Korean Peninsula has reached a critical crossroads between war and peace. The United States and South Korea joined China, Russia, Japan, and North Korea in the recent session of the Six-Party Talks in Beijing, but failed to achieve an agreement for North Korea's nuclear disarmament. Hence, the United States and South Korea face a number of important questions, including the realignment of their bilateral alliance, the future of multilateral diplomacy, and the consolidation of effective deterrence toward North Korea.

Dr. Mong Joon Chung, a distinguished member of the South Korean National Assembly and a seasoned specialist of international affairs, will present his perspectives on the changing relations between the United States and South Korea, especially in regard to the North Korean nuclear issues. Born in 1951 as the sixth son of the Hyundai Founder, Dr. Chung received his B.A. in economics from Seoul National University, M.S. from the MIT Sloan School of Management, and Ph.D. from the School of Advanced International Studies, Johns Hopkins University.

As a political leader without party affiliations, Dr. Chung has been elected to the National Assembly since 1988. He was a candidate for the South Korean Presidency in 2002. He holds a number of professional and academic positions— such as Chairman of Hyundai Heavy Industries Corporation, Chairman of the Board of Trustees for Ulsan University, Chairman of the Board of Trustees for the Asan Foundation, member of the Board of Trustees for Korea University, member of the Board of Trustees for the Asia Society (New York), President of the Korea Football Association, and Vice President of FIFA (Federation International of Football Association).

He has written Ideology of Business Management, The Relationship between Government and Industry in Japan, and other books and articles on international economic and diplomatic topics.

The Keck Center for International and Strategic Studies is pleased to host Dr. Chung's visit to CMC as a Freeman Foundation Visiting Professor in Asian Affairs.