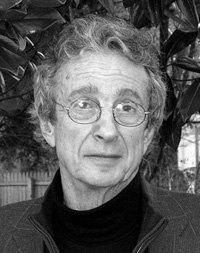 A Reading
C. K. WILLIAMS
THURSDAY, JANUARY 25, 2007
Charles K. Williams started writing poetry when he was 19, shortly after taking his last required English class at the University of Pennsylvania. "Poetry didn't find me, in the cradle or anywhere near it: I found it," he recalled. "I realized at some point— very late, it's always seemed— that I needed it, that it served a function for me— or someday would— however unclear that function may have been at first." Williams found his voice as a poet in the mid-sixties when writing to a magazine editor about the violence directed against civil rights activists. The process of writing this letter opened up a new way of thinking for Williams— a paradigm for writing all of his poetry. The result was "A Day for Anne Frank," a meditation that linked the civil rights movement with the Holocaust and became the opening poem of his first collection,
Lies
(1969). "After the Anne Frank poem . . . I seemed to be able to write poems I wanted to write, in a way that satisfied me, that made the struggle with the matter and form and surface of the poems bearable, and, more to the point, purposeful," wrote Williams.
The Singing
, Williams' most recent collection, explores topics surrounding aging: the loss of loved ones, the love of grandchildren, and the struggle to retain memories of childhood even while dealing with the complexity of current events. Today, Williams is considered one of the most esteemed living American poets.
Williams is the author of numerous books of poetry, including The Singing (Farrar, Straus, and Giroux, 2003), which won the National Book Award; Repair (1999), winner of a Pulitzer Prize; The Vigil (1997); A Dream of Mind (1992); Flesh and Blood (1987), which won the National Book Critics Circle Award; Tar (1983); With Ignorance (1997); I Am the Bitter Name (1992); and Lies (1969). Among his many awards and honors are an American Academy of Arts and Letters Award, a Guggenheim Fellowship, the Lila Wallace-Reader's Digest Award, the PEN/Voelcker Award for Poetry, the Twentieth Annual Ruth Lilly Poetry Prize; and a Pushcart Prize. Williams teaches in the creative writing program at Princeton University and lives part of each year in Paris.