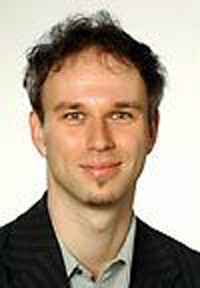 Social Psychology and Economics: Some Illustrations in the Fields of Fairness and Leadership
DAVID DE CREMER
MONDAY, JANUARY 29, 2007
David De Cremer is a young leadership scholar who works at the intersection of economics and social psychology. An economist might say, "What intersection?" Yet there is a growing literature that explores economic behaviors within a social context. Which are the economic versus psychological motives in ongoing social interactions? How do trust in authority or perceptions of procedural fairness affect cooperation? What is the role of social value orientations and the strategic use of fairness in ultimatum bargaining?

Educated in Belgium and England, De Cremer is a full professor of social psychology at Tilburg University in the Netherlands. He is the recipient of the British Psychology Society (BPS) award for "Outstanding Ph.D. in Social Psychology" (year 2000), a nominee for the American Psychology Association (APA) award in Group Psychology (year 2000), and the recipient of the Jos Jaspars Early Career Award for "Outstanding contributions to social psychology" awarded by the European Association of Experimental Social Psychology (year 2005). Having won the prestigious Netherlands Organization for Scientific Research Award in the year 2000, he is now the director of the Center for Justice and Social Decision Making at Tilburg University (www.centerofjust.nl) and a member of the Young Academy of Sciences in the Netherlands (Royal Netherlands Academy of Arts and Sciences). For the 2006-2007 academic year he is a research fellow at the Kennedy School of Government at Harvard.

Dr. De Cremer's most recent book, with co-editors Marcel Zeelenberg and J. Keith Munighan is Social Psychology and Economics, published by Erlbaum in 2006. Representative articles include "Respect and Cooperation in Social Dilemmas", as well as "Affective and Motivational Consequences of Self-sacrifice: The Moderating Effect of Autocratic Leadership", and "The Influence of Accuracy as a Function of Leader's Bias: The Role of Trustworthiness in the Psychology of Procedural Justice." He will discuss his integrative work on social psychology and economics through the lens of fairness and leadership studies.

Dr. De Cremer's visit is sponsored by the Kravis Leadership Institute as part of their series on Young Leadership Professionals.