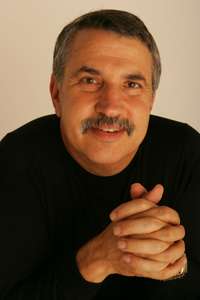 The Next Phase of Globalization
THOMAS FRIEDMAN
TUESDAY, FEBRUARY 27, 2007
Thomas L. Friedman, a world-renowned author and journalist, joined The New York Times in 1981 as a financial reporter specializing in OPEC and oil related news and later served as the chief diplomatic, chief White House, and international economics correspondents. A three-time Pulitzer Prize winner, he has traveled widely reporting the Middle East conflict, the end of the cold war, U.S. domestic politics and foreign policy, international economics, and the worldwide impact of the terrorist threat. His foreign affairs column, which appears twice a week in The New York Times, is syndicated to seven hundred other newspapers worldwide.

Friedman is the author of From Beirut to Jerusalem (FSG, 1989), which won both the National Book Award and the Overseas Press Club Award in 1989 and was on The New York Times bestseller list for nearly twelve months. Friedman also wrote The Lexus and the Olive Tree (FSG, 1999), one of the best selling business books in 1999, and the winner of the 2000 Overseas Press Club Award for best nonfiction book on foreign policy. It is now available in twenty languages. His last book, Longitudes and Attitudes: Exploring the World After September 11, issued by FSG in 2002, consists of columns Friedman published about September 11 as well as a diary of his private experiences and reflections during his reporting on the post-September world as he traveled from Afghanistan to Israel to Europe to Indonesia to Saudi Arabia. In 2005, The World Is Flat: A Brief History of the Twenty-first Century (2005) was given the first Financial Times and Goldman Sachs Business Book of the Year Award, and Friedman was named one of America's Best Leaders by U.S. News & World Report.

Friedman graduated summa cum laude from Brandeis University with a degree in Mediterranean studies and received a master's degree in modern Middle East studies from Oxford and has served as a visiting professor at Harvard University.

Thomas Friedman's visit is sponsored by the Res Publica Society of Claremont McKenna College.