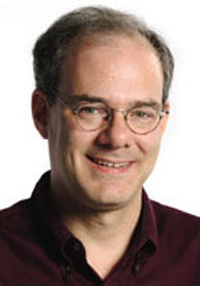 Something in the Air: Radio, Rock, and the Revolution That Shaped a Generation
MARC FISHER
WEDNESDAY, FEBRUARY 28, 2007
"When television became the next big thing in broadcast entertainment, everyone figured video would kill the radio star and radio, period. But radio came roaring back with a whole new concept. The war was over, the baby boom was on, the country was in clover, and a bold new beat was giving the syrupy songs of yesteryear a run for their money. Add transistors, 45 rpm records, and a young man named Elvis to the mix, and the result was the perfect storm that rocked, rolled, and reinvented radio."

In his Athenaeum presentation, author Marc Fisher will cover the main themes of his book, with special emphasis on radio's role in breaking the color line in American popular culture, as well as the key pioneer in that moment, Los Angeles deejay Hunter Hancock.
Marc Fisher, whose column appears in The Washington Post three times each week, reports and writes about local, national, and personal issues. He also writes "The Listener," a column about radio, music, and culture that appears in the Post's Sunday Arts section. His blog, "Raw Fisher," and his online chat program, "Potomac Confidential," appear on washingtonpost.com. He also appears daily on Washington Post Radio. Prior to launching the column, Fisher was the paper's Special Reports Editor, responsible for generating and editing features, breaking news and other long-form stories from all staffs for Page One. He also wrote a column in the Post's Sunday Magazine.
In addition to Something in the Air: Radio, Rock, and the Revolution That Shaped a Generation (2007), Fisher is author of After the Wall: Germany, the Germans and the Burdens of History, published by Simon and Schuster in 1995. The book grew out of Fisher's four years as Bonn and Berlin bureau chief of The Post, beginning with the dramatic events of autumn 1989. He has taught journalism at Princeton University, served as journalist-in-residence at the American Institute for Contemporary German Studies at Johns Hopkins University, and been a visiting scholar at the George Washington University's School of Media and Public Affairs.

Winner of numerous journalism awards, Princeton University graduate Fisher worked at the Miami Herald from 1981 to 1986, when he moved to The Post. He covered the D.C. school system, was on the staff of the Sunday magazine, and served as Assistant City Editor before joining the Foreigh Desk in early 1989. After returing from Germany in 1994, Fisher was a writer in the Style section, covering politics, culture, and beliefs.