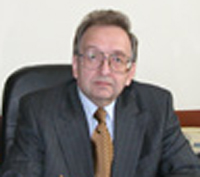 Russia and East Asia
ALEXANDER PANOV
MONDAY, FEBRUARY 19, 2007
As one of those in charge of formulating the main principles and goals of a new Russian policy in the Asia-Pacific region after the collapse of the Soviet Union, Dr. Panov will analyze and explain the problems and achievements of this policy as well as Russia's changing relations with East Asian countries and regional organizations. He will also elaborate on the complex issues in the Asia-Pacific area as a whole and on the state of relations between and among East Asian states.

Panov was the deputy foreign minister of Russia in charge of the Russian policy in the Asia-Pacific region from 1994–1996. He was Ambassador to the Republic of Korea (1992–1994), to Japan (1996–2003), and to the Kingdom of Norway (2004–2006). His foreign service career also included assignment to the Permanent Mission of the USSR to the United Nations (1977–1981).

Alexander Panov, born in 1944, graduated from Moscow State Institute of International Relations in 1968, received his Ph.D. 1973, and was assistant professor at this Institute (1971–1977). For his diplomatic service he received the Order of Merit award and several other medals. He is currently the Rector of the Diplomatic Academy of the Russian Foreign Ministry.

Dr. Panov is author of several books, including Postwar Reforms in Japan (1978); Japanese Foreign Service (1988); From Distrust to Trust: Inside the Northern Territories Talks with Japan (in Japanese, 1992); After Thunder Storm Clear: Russian-Japanese Relations from 1996 to 2003 (in Japanese, 2004); Russia and Japan: Relations in the End of XX Century—Beginning XXI Century (2007). He is also author of more than 30 articles on the problems of the Asia-Pacific region.

The Keck Center for International and Strategic Studies is pleased to host Dr. Panov's visit to CMC as a Freeman Foundation Visiting Professor in Asian Affairs.