Athenaeum Location
Print Newsletter
March 5, 2007
Vol. 22, No. 07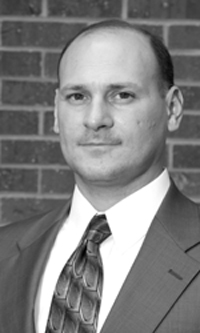 The New Way Forward in Iraq
JAMES GAVRILIS
MONDAY, MARCH 5, 2007
"By quickly establishing an effective Iraqui alternative to the regime and not alienating anyone, we made resistance irrelevany" he said... In sum, he treated Iraquis as partners. Rather than seek to break the structure of an ancient society, he sought to use it to achieve his ends. But he was careful in establishing those goals and realistic in seeking to achieve them, acting with both humility and common sense.
-Thomas E. Ricks, Fiasco: The American Military Adventure in Iraq (153-154) (2006)

Major James A. Gavrilis is a career U.S. Army Special Forces Officer. Over the last two years, he has focused on unconventional warfare, counter-terrorism, counter-insurgency, and counter-proliferation in Iraq and in other parts of the Middle East. During his previous assignment he commanded a large special operations force in Iraq through the initiation of hostilities, major combat operations, and into the civil administration that followed.

He has commanded in the 3rd and 5th Special Forces Groups (Airborne) and in the U.S. Army Special Operations Command. He has served overseas in Africa, the Balkans, and the Middle East in training, peacekeeping, and combat operations.

He recently returned from his last tour in Iraq where he was responsible for the planning and execution of multi-national, multi-agency, and joint counter-terrorist and counter-insurgency operations, and for directing the operations of all U.S. Army Special Forces teams operating throughout the country. Major Gavrilis is also an International Affairs Fellow at the Council on Foreign Relations and an Executive Board Member of the National Defense Industrial Association's Special Operations/Low Intensity Conflict Division.

Major Gavrilis earned his B.A. in political science at the Pennsylvania State University focusing on international and comparative politics and his M.A. in international studies at Old Dominion University focusing on conflict and cooperation. He is a resident graduate of the U.S. Army Command and General Staff College where he earned the Master Strategist and Joint Planner designations. Gavrilis' lecture is sponsored by the Keck Center for International and Strategic Studies.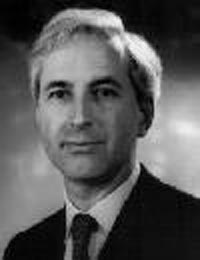 Cecil Beaton: His Biography & His Biographer
HUGO VICKERS
TUESDAY, MARCH 6, 2007
Cecil Beaton (1904-80) was a man of many parts: photographer, designer of sets and costumes, illustrator, diarist, author of many books, creator of some of the finest images of the Royal Family, a man of style, and arbiter of taste and fashion. There were few distinguished or glamorous people of the twentieth century who eluded his lens. He even succeeded in luring Greta Garbo before his camera, and beyond that, enjoyed a curious romance with her.

A renowned biographer and historian, Hugo Vickers has written biographies of many twentieth century figures, including the Queen Mother, Gladys, Duchess of Marlborough, Cecil Beaton, Vivien Leigh, Greta Garbo, Alice, Princess Andrew of Greece, and The Duke and Duchess of Windsor. A frequent broadcaster, Vickers is in high demand for royal occasions. He was an ITN studio guest for the Royal Wedding of 1981, and for the funeral of Diana, Princess of Wales in 1997. He appears regularly on CNN's Larry King Live, and has also appeared on Fox TV, NSNBC, and a great number of programs in Canada, Australia, and New Zealand.

His book, The Kiss: The Story of an Obsession (1996), won the 1996 Stern Silver Pen Award for Non-Fiction. His latest work, Elizabeth, The Queen Mother (2005), is the first major biography since her death, was much reprinted and is now in paperback. At present he is writing a book on St George's Chapel, Windsor, and weekly profiles for Hello! magazine.

Promising to be "entertaining and highly polished...a story of amazing success told with loving wit and great insight," Hugo Vickers' lecture will focus on the life and career of Cecil Beaton, as well stories from his own life experiences.

The Gould Center for Humanistic Studies has named Hugo Vickers the Golo Mann Distinguished Lecturer for Academic Year 2006-07. This lecture is made possible through the generosity of CMC alumnus Eugene Wolver '51.
Surveying the Contemporary Free Market of Religious and Non-religious Americans
BARRY KOSMIN
WEDNESDAY, MARCH 7, 2007
Lunch 11:45 a.m., Lecture 12:15 p.m.
Identifying people by their religion is fraught with potential controversy. Who decides who counts as a Roman Catholic, for example? Should it be the parish priest? Who decides who is a Jehovah's Witness or Wicca? For a subject of such intense interest, the religious identity and beliefs of the American people has been surprisingly under-researched. For constitutional reasons, the government does not ask questions about religious identification in the Census. Few private surveys include or adequately differentiate the large number of people who identify with religious traditions and groups but are not members of congregations. Finally, there has been little detailed comparative research on the religious beliefs of Americans in smaller religious groups or among ethnic minorities.

In his recent book, Religion in a Free Market (2006), Kosmin overcomes the failings of much prior research on American religion by drawing heavily on the findings of the landmark American Religious Identification Survey (ARIS) 2001. This survey of 50,000 households covered a national, representative cross-section of the American public, and asked questions about religious identification, belief, and behavior. ARIS has been cited annually in the Statistical Abstract of the United States, a Census Bureau publication, as the primary data source for the religious identification of American adults.

Professor Kosmin is currently research professor in the public policy and law program at Trinity College, and Director of the Institute for the Study of Secularism in Society and Culture. He holds degrees from the Universities of London and McMaster (Canada) and has taught at universities in Europe, Africa, and North America. He is the author of over 20 books and research monographs and more than 50 scholarly articles in the areas of sociology, politics, philanthropy, and policy research. His scholarship includes Joint Series Editor (with Dr Sidney Goldstein) of the monograph series American Jewish Society in the 1990s for State University of New York Press and Joint Editor of the journal Patterns of Prejudice, (1999-2004). this lecture is cosponsored by the Salvatori Center for the Study of Individual Freedom in the Modern World and the Family of Benjamin Z. Gould Center for the Humanities at CMC.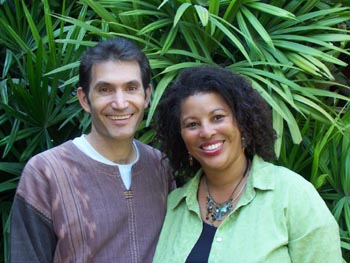 Human Trafficking and Prostitution in Thailand and the Mekong Sub-region: Job Creation and Life Restoration
CHRISTA FOSTER CRAWFORD '91
MARK CRAWFORD '89
WEDNESDAY, MARCH 7, 2007
Mark and Christa Crawford began researching issues of human trafficking and prostitution in Southeast Asia in the late 1990s. In 2001, they moved to Thailand to begin working directly with victims of trafficking and prostitution at the grass-roots, policy, and advocacy levels. Two years later, in order to provide vocational training and alternative income to exploited and trafficked people, they founded Just Food, Inc., which offers these victims both jobs and businesses in the highly lucrative food and beverage industry. Still not content, in 2006, however, Mark and Christa started a Thai foundation, The Garden of Hope, which addresses the holistic needs of people at-risk and coming out of prostitution and trafficking in Thailand and bordering countries. The foundation is designed to aid sexually exploited women, teens, and children in red light districts. The Garden of Hope also offers a Culinary Arts Academy to provide superior training for sustainable jobs in the food and beverage industry.

Prior to founding Just Food, Inc. and The Garden of Hope, Christa and Mark served as directors of the International Justice Mission's Thailand Justice Center, rescuing women and children from forced prostitution. Christa also served as an associate social affairs officer in the Gender and Development Section of the United Nations Economic and Social Commission for Asia and the Pacific, where she authored/edited the publication Combating Human Trafficking in Asia: A Resource Guide to International and Regional Legal Instruments, Political Commitments and Recommended Practices (2003).

Mark and Christa are accompanied by Moon, an eighteen-year-old survivor of child sex trafficking. Moon's birth mother sold her into slavery at the age of twelve weeks; when she turned thirteen, her virginity was sold for approximately $800. The following year, she was forced to work in a brothel, where she was routinely threatened with disfigurement and torture if she did not comply with customers. She was not saved until the police and the International Justice Mission (an evangelist group) raided the brothel a month after she had been forced to labor there. According to UNICEF, Moon is merely one out an estimated one million children who annually enter the multibillion-dollar industry of commercial sexual exploitation.

When they heard of her story, Mark and Christa sought out Moon and began working with her to help repair the unspeakable damage that had been inflicted on her. All three are very active in seeking to extirpate this horrific practice, as well as helping former victims to transition into a socially viable source of income.

Mark and Christa are both active in writing, speaking, teaching, and advising about issues of prostitution and human trafficking in the Mekong Sub-region. They form part of the Athenaeum's continuing series, Life After CMC.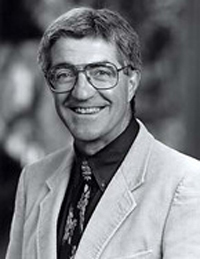 The Present Disconnect in American Politics
MORRIS FIORINA
THURSDAY, MARCH 8, 2007
Lunch 11:45 a.m., Lecture 12:15 p.m.
The 2000 presidential election. Red states versus blue states. Pro-choice versus pro-life. The Culture War. Is the United States on the brink of a truly dangerous, perhaps irreversible, political polarization?

The distinguished political scientist Morris Fiorina argues that the so-called Culture War exists mainly because of the exaggerations of news media and extreme party activists, both liberal and conservative. They might see themselves as culture warriors, but in fact 80-90% of Americans do not notice a growing divide.

Fiorina is a Senior Fellow at the Hoover Institution and the Wendt Family Professor of Political Science at Stanford University. He previously held positions at the California Institute of Technology (1978-1982) and as the Frank Thompson Professor of Government at Harvard University (1982-1998). From 1986 to 1990 he served as the chairman of the Board of Overseers of the American National Election Studies. He is currently a member of the National Academy of Sciences and the American Academy of Arts and Sciences.

Fiorina's most recent book, Culture War? The Myth of a Polarized America (2004), coauthored with Samuel J. Abrams and Jeremy C. Pope, details how the media and political parties cultivate the culture war myth, and how the political elites emphasize cultural issues that the electorate finds peripheral.

Morris Fiorina's lecture at the Athenaeum is sponsored by the Salvatori Center for the Study of Individual Freedom in the Modern World.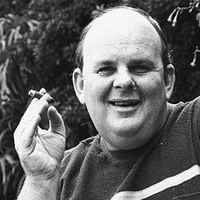 An Evening with the Poet
LES MURRAY
MONDAY, MARCH 19, 2007
Leslie Allan Murray was born in 1938 in Nabiac, a village on the north coast of New South Wales, Australia, spending his childhood on his father's dairy farm nearby. Biographer Peter Alexander writes, "His parents were poor and their weatherboard house almost bare of comforts; Murray remarked that it was not until he went to the university that he first met the middle class. His identification was with the underprivileged, especially the rural poor, and it was this that gave him his strong sense of unity with Aborigines and with 'common folk.'" Les currently resides in the Australian countryside in Bunyah, New South Wales.

He has published some thirty books of poetry, prose, criticism, and edited collections of poetry, including The New Oxford Book of Australian Verse (1986), and most recently, Hell and After: Four Early English-language Poets of Australia (2005). His work has garnered several awards, including the Petrarch Award (1995), T.S. Eliot Prize (1996), and the Queen's Gold Medal (1998), under the recommendation of the poet Ted Hughes. His newest collection is The Biplane Houses, published in April of 2006.

Murray's work is studied in schools and universities around the world and his poetry has been translated into ten languages: German, Italian, Spanish, Catalan, Norwegian, Danish, Swedish, Hindi, Russian and Dutch. Translations of his notable epic, Fredy Neptune (for which Murray was given the Queen's Gold Medal) continue to collect prizes. There are several critical editions dedicated to the study of his poetry. The U.K.'s Independent on Sunday recently stated that Murray is "one of the finest poets writing in English, one of a superleague that includes Seamus Heaney, Derek Walcott and Joseph Brodsky."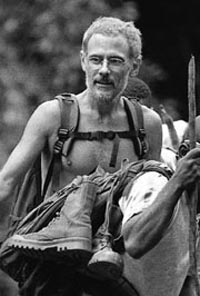 Saving Africa's Eden
J. MICHAEL FAY
TUESDAY, MARCH 20, 2007
"When it comes to a practical knowledge of the geography of central Africa, there is hardly anybody around who knows what he knows, who's been where he has, who's documented it. In that sense he's a classical explorer. But he's much more than that. He's living at a moment in time when the last forests are being destroyed, where the opportunity to save that world is fading rapidly."
-Peter Raven, botanist, conservationist, head of the Missouri Botanical Garden

Explorer, botanist, anthropologist, and zoologist, J. Michael Fay spent 455 days in 1999 and 2000 conducting the Megatransect - a massive expedition in which he walked across the Congo Basin forest. Aiming to document the vanishing wildlife of the region and increase public awareness, he kept hundreds of pages of notes and shot over 500 hours of video and audiotape of the region. Due to his work and expertise in various scientific disciplines, Fay was able to present both the big picture of wildlife conservation as well as the interdependence among species. As John Robinson, vice president of the Wildlife Conservation Society stated, "Mike crossed over to the wild side and went in deep enough and stayed there long enough that, as he walked, he could see the effects people on the outside were having on the natural environment he was in." Due in part to the publicity the walk received, the government of Gabon declared its first-ever national park system, creating 13 new national parks, spanning some 10,000 square miles. He followed up the ground based trek with an "Africa Mega Flyover" in 2004, which was a 7 month aerial overview of human impacts on the African ecosystem. More recently he has been studying elephant poaching in Chad. His Athenaeum talk will focus on how killing off the natural world has important local impacts on the ecosystem.

Fay has endured many trials in his quest to protect Africa's diverse wildlife including a plane crash, many bouts of malaria, and face-to-face confrontations with armed poachers. He even survived an attack by an African elephant while trekking through a national park in Gabon. "Elephants will always be my friends, but I may just slow down on the level of interaction I have had in the past," he said.

Fay spent his childhood in Pasadena and attended the University of Arizona for an undergraduate degree in botany. College was followed by six years of Peace Corps service as a botanist in national parks in Tunisia and the savannahs of the Central African Republic. Fay attended graduate school at Washington University in St. Louis and conducted dissertation research on the lowland gorilla population in the forests of the Central African Republic. He went on to create the Dzanga-Sangha and Nouabale-Ndoki wildlife refuges in the Central African Republic and Congo. He is currently a National Geographic Explorer and based at the Wildlife Conservation Society in New York.

Michael Fay's visit to CMC is jointly sponsored by the Roberts Environmental Center and the Athenaeum.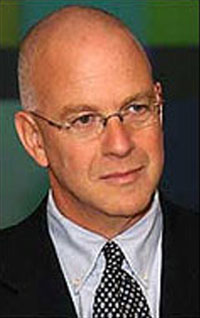 The Global Perspectives on Counter-Terrorism: An Analysis of the U.S., Israel, Russia, Spain and India
AMOS GUIORA
WEDNESDAY, MARCH 21, 2007
Amos N. Guiora is professor of law at Case Western Reserve University School of Law and director of the Institute for Global Security Law and Policy. Professor Guiora teaches and develops courses and labs on the legal and policy aspects of counterterrorism.

His Athenaeum lecture will focus on global perspectives on counter-terrorism, including analysis of how the U.S., Israel, Russia, Spain, and India develop and implement counter-terrorism policies that reflect the rule of law, as well as the balance between civil liberties and national security.

Before joining Case in 2004, Guiora served for 19 years in the Israel Defense Forces Judge Advocate General's Corps (Lt. Col. Ret.). He held a number of senior command positions, including Commander of the IDF School of Military Law, Judge Advocate for the Navy and Home Front Command, and the Legal Advisor to the Gaza Strip.

During his military service, Guiora was involved in many important legal and policy-making issues, including the capture of the PLO weapons ship Karine A, implementation of the Gaza-Jericho Agreement, the Israeli-Palestinian Interim Agreement, and "Safe Passage" between the Gaza Strip and the West Bank.
As an expert commentator, he is frequently interviewed and quoted and has been published in the national and international media, including CNN, The Washington Post, PBS, The New York Times, the Los Angeles Times, BBC, C-Span, The Christian Science Monitor, Fox TV, the New York Daily News, KQV Newsradio Pittsburgh, and Minnesota Public Radio.

Professor Guiora graduated from Kenyon College in 1979 (Honors in History) and from Case Western Reserve University School of Law in 1985.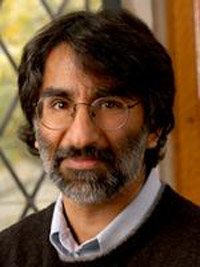 America's Constitution: As Seen from the Pacific Ocean
AKHIL REED AMAR
THURSDAY, MARCH 22, 2007
Drawing upon his recent book, America's Constitution: A Biography (2006), Yale Law Professor Akhil Reed Amar will explore how the American West has shaped the American constitutional experience over the centuries. Beginning with the Eastern states' decision to "form a more perfect union" largely in order to consolidate and coordinate their control over the West, Professor Amar will show that the West has played a far larger role in the American constitutional saga than is generally understood.
Akhil Reed Amar is the Southmayd Professor of Law and Political Science at Yale University and is considered one of the top constitutional law experts of his generation. He received his B.A. summa cum laude, in 1980 from Yale College, and his J.D. in 1984 from Yale Law School, where he served as an editor of The Yale Law Journal. After clerking for Judge Stephen Breyer, U.S. Court of Appeals, 1st Circuit, Professor Amar joined the Yale faculty in 1985. He is the author of several books, including The Constitution and Criminal Procedure: First Principles (1998), The Bill of Rights: Creation and Reconstruction (2000) and most recently, America's Constitution: A Biography. Amar has been cited by the Supreme Court more often than any other scholar under 45, and is one of the most frequently quoted academics in America. He was also a consultant to the popular television show The West Wing and serves on the Board of Directors for the National Constitution Center.

Akhil Reed Amar's visit to CMC is sponsored by the Salvatori Center for the Study of Individual Freedom in the Modern World.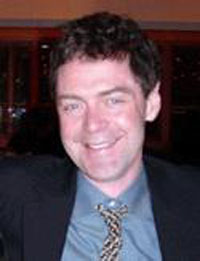 Near Eastern Prototypes of the Palace of Alkinoos in the Odyssey
ERWIN COOK
MONDAY, MARCH 26, 2007
Who was Homer? Was he a Greek from Western Anatolia, and if so, are there traces of historical Near Eastern cultures in his poems? Dr. Erwin Cook, T. Frank Murchison Distinguished Professor of Classical Studies at Trinity University in San Antonio, will discuss the significance of the palace of Alkinoos as illustrated in the Odyssey in the broader cultural milieu of ancient Anatolia and its contacts with Assyria. He argues that the palace of Alkinoos represents a significant departure from Homer's usual description of Bronze Age palaces and equally from the archaeological record at any period in Greece. Near Eastern archaeological and textual evidence, however, suggests that Homer's account is not a simple poetic fantasy but is, instead, substantially based on the palaces and palace-gardens built by the rulers of Assyria between the 9th and 7th centuries BCE.

Having received his Ph.D. from the University of California at Berkeley in classics, Dr. Cook was a Fulbright Scholar and Junior Associate at the Center for Hellenic Studies. He is author of The Odyssey in Athens: Myths of Cultural Origins (Cornell University Press 1995), which was selected as "One of the Outstanding Academic Books of 1996." Dr. Cook's research and teaching interests include the Greek epic, history, religion, and comparative mythology. Among his most recent publications are "Agamemnon's Test of the Army in Iliad Book 2 and the Function of Homeric Akhos," in the American Journal of Philology (2003) and "Near Eastern Prototypes of the Palace of Alkinoos," in the American Journal of Archaeology (2004). Recent presentations, which reveal his multifaceted interests, also include: Nestor's Big Adventure: On Making Sense of Iliad 8 (2006), The Linguistics of Homeric epei (2000), On the Role of Folk-Etymology in Teaching Homer, and Homeric and Bronze Age Pylos.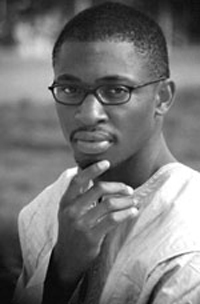 Beasts of No Nation
UZODINMA IWEALA
WEDNESDAY, MARCH 28, 2007
Lunch 11:45 a.m. Lecture 12:15 p.m.
At the age of 23, Uzodinma Iweala published his first novel, Beasts of No Nation (2005), the narrator of which is a young boy conscripted into a ragtag army of guerrilla fighters as civil war engulfs his unidentified West African country.

Iweala was born in Washington, D.C., in 1982. From the beginning of his life, his existence was one between cultures. He has spent much of his life traveling between the United States, United Kingdom, and Nigeria.

Iweala considers himself an American, but identifies strongly with his Nigerian roots. Most of his extended family lives in Nigeria. Growing up, his parents stressed the Nigerian aspect of his identity through yearly trips to the villages in which his mother and father grew up, use of the Igbo language in their house, and cooking of Nigerian food, which he claims is "better than you've previously ingested."

When he got to Harvard, Iweala initially thought he would study biology, economics, or government. After taking an introductory English class with Steven Greenblatt, however, he immediately changed his major to English. The writing of Beasts of No Nation evolved out of his senior thesis project. It quickly was selected "A Best Book of the Year" by Time, People, Slate, Entertainment Weekly, and New York Magazine. Salman Rushdie declared, "This is one of those rare occasions when you see a first novel and you think, this guy is going to be very, very good."

Iweala's lecture is sponsored by the Family of Benjamin Z. Gould Center for the Humanities.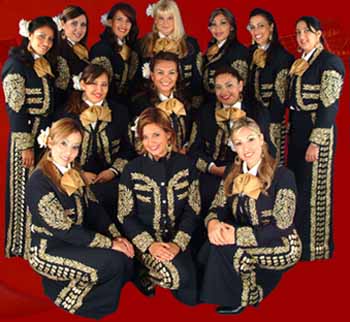 Mariachi Divas: A Musical Celebration Honoring Cesar Chavez
CINDY SHEA, trumpet, founding director
SUSIE GARCIA, violin
MAYRA MARTINEZ, vihuela
LORENA PANELLA, guitar, vocals
LORRAINE FEESAGO-PEREZ, violin, vocals
MELINDA SALCEDO, guitar, vocals
CATHY BAEZA, violin
LETICIA SIERRA, violin
NORMA HERRERA, trumpet
VANEZA CALDERON, guitarron
DEYRA MURILLO, guitar
WEDNESDAY, MARCH 28, 2007
In a profession traditionally dominated by men, the Mariachi Divas are making big waves on the Los Angeles scene. Founded in 1999, this all-female sensation has swept the Athenaeum to its feet for the past three years — and it is CMC's good fortune to host them once again to celebrate the birthday of Cesar Chavez.

The Mariachi Divas are a truly multi-cultural ensemble, represented by women of Mexican, Cuban, Samoan, Argentinean, Colombian, Japanese, Puerto Rican, Swiss, and Anglo decent. "Music is a way of uniting our cultural backgrounds," says founder and director Cindy Shea. "Our foundation and roots are mariachi, but we have added extra elements to reflect our diversity." Their lively sounds incorporate jazz, cumbia, salsa, and meringue into traditional mariachi music.

The Divas have performed at venues throughout the United States and Mexico. In addition to many televised performances, they also appeared on film in the documentary, Viva El Mariachi (2005). Most often, they appear at restaurants and street fairs in the city of Los Angeles. But the Divas' success is not pure luck; nearly all the women have college degrees and several have degrees in music. These talented female musicians are professionals with a highly contagious spirit and energy. Their performance this year promises to be a lively tribute to Hispanic heritage and the life of Cesar Chavez.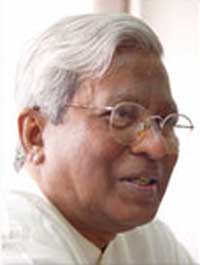 2007 Henry R. Kravis Prize in Leadership
Empowering the Poor in the Developing World
FAZLE ABED
THURSDAY, MARCH 29, 2007
Lunch, 11:45 a.m., Lecture, 12:15 p.m.
In 1972, Fazle Abed founded BRAC (formerly known as the Bangladesh Rural Advancement Committee) to provide relief and assistance to refugees returning from India after Bangladesh's Liberation War. Over the next 30 years, Abed would transform BRAC into one of the largest development organizations in the world, serving more than 100 million people throughout East Asia, the Middle East, and Africa.

BRAC operates major programs in microfinance and income generation, public health, education, and social development. BRAC's microfinance program currently assists over 5 million borrowers and has disbursed U.S. $3.8 billion to date in loans, with a 98 percent repayment rate. BRAC's health program, serving more than 80 million people, provides a wide range of preventive, curative, and rehabilitative health services, ranging from basic health and nutrition assistance, to HIV/AIDS awareness and prevention, malaria mitigation, early childhood development, and neonatal health. More than one million children, 65 percent of whom are girls, are currently enrolled in over 20,000 pre-primary and 30,000 non-formal primary schools operated by BRAC's education program. BRAC's social development program promotes greater awareness of social, political, and economic issues, providing human rights and legal services, legal aid clinics, and platforms to discuss social and political issues affecting poor women in rural areas.

Mr. Abed was born in Bangladesh and educated at Dhaka and Glasgow Universities. Prior to founding BRAC, he spent a number of years in the private sector as an executive with Shell Oil in Chittagong.

Fazle Abed is the recipient of the second annual Henry R. Kravis Prize in Leadership, which carries a $250,000 award to his organization, for his innovative work, direct impact, and achievement in reducing poverty and empowering the poor. The Prize is administered by Claremont McKenna College, the Kravis Leadership Institute, and Marie-Josée and Henry R. Kravis '67. "The Kravis Prize was established to celebrate [leaders'] vision, boldness, and determination," Mr. Kravis said. "Fazle Abed is such a leader."
STUDENT FELLOW APPLICATIONS
2007—2008
Application forms for the position of Athenaeum Fellow for the 2007—2008 academic year will be available in the Athenaeum office on Friday, March 2, 2007. Completed applications must be returned by Friday, March 23, 2007, at 5:00 pm.
Athenaeum Reminder
Due to limited dining capacity, meal reservations will be open to the CMC community only after each Fortnightly is issued. Reservations will then be opened to the larger community, subject to availability.

All programs are open to the public without charge and begin at 6:45 p.m. In certain exceptional cases Athenaeum seating will be limited to CMC students, faculty, and staff; however, additional seating will be available in McKenna Auditorium. Advance notice will be provided for those occasions.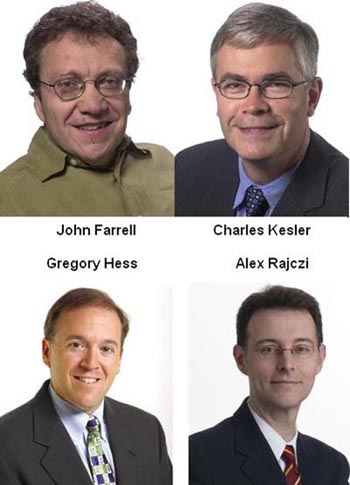 Is War Ever Justified?
JOHN FARRELL
CHARLES KESLER
GREGORY HESS
ALEX RAJCZI
TUESDAY, MARCH 27, 2007
When every generation has lived through at least one war, it is difficult to imagine a world without it. War has been an inescapable reality in societies both ancient and modern, and always those societies have struggled to justify their decision. Why do we go to war? The Athenaeum is proud to offer an interdisciplinary discussion of this question in a truly CMC community event.

Professor of Politics Charles Kesler will present a political perspective of war. Why is war a permanent part of political life, and what does that fact reveal about the problem of justifying war?

Professor of Philosophy Alex Rajczi will discuss the ethical issues involved in justifying war. Several uncontroversial rules govern the decision to go to war, Rajczi argues, but should those rules be focused on the national interest or on some broader? How much should we consider the interests of other people in making the decision to go to war?

Professor of Literature John Farrell will talk not about how wars should be justified but about how wars are justified. How does one go about convincing other people that a war is justified, and how does one appeal to the imagination to make that proposition persuasive?

Professor of Economics Gregory Hess will present a formal political economy perspective on war. Having published several papers on the economic costs associated with international conflict, Hess will discuss his personal experiences with war and academic evaluation of conflict.

This event is sponsored by the Claremont McKenna Student Union (CMSU).