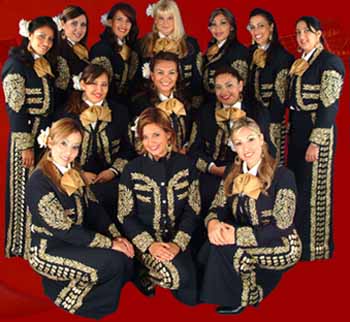 Mariachi Divas: A Musical Celebration Honoring Cesar Chavez
CINDY SHEA, trumpet, founding director
SUSIE GARCIA, violin
MAYRA MARTINEZ, vihuela
LORENA PANELLA, guitar, vocals
LORRAINE FEESAGO-PEREZ, violin, vocals
MELINDA SALCEDO, guitar, vocals
CATHY BAEZA, violin
LETICIA SIERRA, violin
NORMA HERRERA, trumpet
VANEZA CALDERON, guitarron
DEYRA MURILLO, guitar
WEDNESDAY, MARCH 28, 2007
In a profession traditionally dominated by men, the Mariachi Divas are making big waves on the Los Angeles scene. Founded in 1999, this all-female sensation has swept the Athenaeum to its feet for the past three years — and it is CMC's good fortune to host them once again to celebrate the birthday of Cesar Chavez.

The Mariachi Divas are a truly multi-cultural ensemble, represented by women of Mexican, Cuban, Samoan, Argentinean, Colombian, Japanese, Puerto Rican, Swiss, and Anglo decent. "Music is a way of uniting our cultural backgrounds," says founder and director Cindy Shea. "Our foundation and roots are mariachi, but we have added extra elements to reflect our diversity." Their lively sounds incorporate jazz, cumbia, salsa, and meringue into traditional mariachi music.

The Divas have performed at venues throughout the United States and Mexico. In addition to many televised performances, they also appeared on film in the documentary, Viva El Mariachi (2005). Most often, they appear at restaurants and street fairs in the city of Los Angeles. But the Divas' success is not pure luck; nearly all the women have college degrees and several have degrees in music. These talented female musicians are professionals with a highly contagious spirit and energy. Their performance this year promises to be a lively tribute to Hispanic heritage and the life of Cesar Chavez.