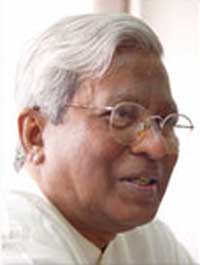 2007 Henry R. Kravis Prize in Leadership
Empowering the Poor in the Developing World
FAZLE ABED
THURSDAY, MARCH 29, 2007
Lunch, 11:45 a.m., Lecture, 12:15 p.m.
In 1972, Fazle Abed founded BRAC (formerly known as the Bangladesh Rural Advancement Committee) to provide relief and assistance to refugees returning from India after Bangladesh's Liberation War. Over the next 30 years, Abed would transform BRAC into one of the largest development organizations in the world, serving more than 100 million people throughout East Asia, the Middle East, and Africa.

BRAC operates major programs in microfinance and income generation, public health, education, and social development. BRAC's microfinance program currently assists over 5 million borrowers and has disbursed U.S. $3.8 billion to date in loans, with a 98 percent repayment rate. BRAC's health program, serving more than 80 million people, provides a wide range of preventive, curative, and rehabilitative health services, ranging from basic health and nutrition assistance, to HIV/AIDS awareness and prevention, malaria mitigation, early childhood development, and neonatal health. More than one million children, 65 percent of whom are girls, are currently enrolled in over 20,000 pre-primary and 30,000 non-formal primary schools operated by BRAC's education program. BRAC's social development program promotes greater awareness of social, political, and economic issues, providing human rights and legal services, legal aid clinics, and platforms to discuss social and political issues affecting poor women in rural areas.

Mr. Abed was born in Bangladesh and educated at Dhaka and Glasgow Universities. Prior to founding BRAC, he spent a number of years in the private sector as an executive with Shell Oil in Chittagong.

Fazle Abed is the recipient of the second annual Henry R. Kravis Prize in Leadership, which carries a $250,000 award to his organization, for his innovative work, direct impact, and achievement in reducing poverty and empowering the poor. The Prize is administered by Claremont McKenna College, the Kravis Leadership Institute, and Marie-Josée and Henry R. Kravis '67. "The Kravis Prize was established to celebrate [leaders'] vision, boldness, and determination," Mr. Kravis said. "Fazle Abed is such a leader."