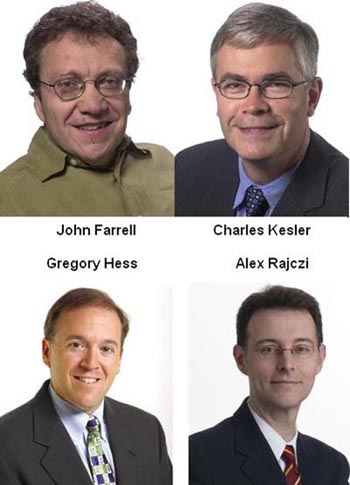 Is War Ever Justified?
JOHN FARRELL
CHARLES KESLER
GREGORY HESS
ALEX RAJCZI
TUESDAY, MARCH 27, 2007
When every generation has lived through at least one war, it is difficult to imagine a world without it. War has been an inescapable reality in societies both ancient and modern, and always those societies have struggled to justify their decision. Why do we go to war? The Athenaeum is proud to offer an interdisciplinary discussion of this question in a truly CMC community event.

Professor of Politics Charles Kesler will present a political perspective of war. Why is war a permanent part of political life, and what does that fact reveal about the problem of justifying war?

Professor of Philosophy Alex Rajczi will discuss the ethical issues involved in justifying war. Several uncontroversial rules govern the decision to go to war, Rajczi argues, but should those rules be focused on the national interest or on some broader? How much should we consider the interests of other people in making the decision to go to war?

Professor of Literature John Farrell will talk not about how wars should be justified but about how wars are justified. How does one go about convincing other people that a war is justified, and how does one appeal to the imagination to make that proposition persuasive?

Professor of Economics Gregory Hess will present a formal political economy perspective on war. Having published several papers on the economic costs associated with international conflict, Hess will discuss his personal experiences with war and academic evaluation of conflict.

This event is sponsored by the Claremont McKenna Student Union (CMSU).