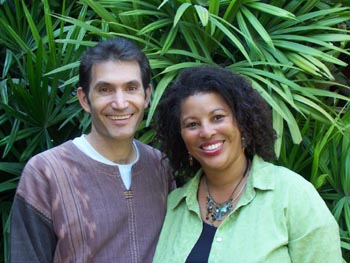 Human Trafficking and Prostitution in Thailand and the Mekong Sub-region: Job Creation and Life Restoration
CHRISTA FOSTER CRAWFORD '91
MARK CRAWFORD '89
WEDNESDAY, MARCH 7, 2007
Mark and Christa Crawford began researching issues of human trafficking and prostitution in Southeast Asia in the late 1990s. In 2001, they moved to Thailand to begin working directly with victims of trafficking and prostitution at the grass-roots, policy, and advocacy levels. Two years later, in order to provide vocational training and alternative income to exploited and trafficked people, they founded Just Food, Inc., which offers these victims both jobs and businesses in the highly lucrative food and beverage industry. Still not content, in 2006, however, Mark and Christa started a Thai foundation, The Garden of Hope, which addresses the holistic needs of people at-risk and coming out of prostitution and trafficking in Thailand and bordering countries. The foundation is designed to aid sexually exploited women, teens, and children in red light districts. The Garden of Hope also offers a Culinary Arts Academy to provide superior training for sustainable jobs in the food and beverage industry.

Prior to founding Just Food, Inc. and The Garden of Hope, Christa and Mark served as directors of the International Justice Mission's Thailand Justice Center, rescuing women and children from forced prostitution. Christa also served as an associate social affairs officer in the Gender and Development Section of the United Nations Economic and Social Commission for Asia and the Pacific, where she authored/edited the publication Combating Human Trafficking in Asia: A Resource Guide to International and Regional Legal Instruments, Political Commitments and Recommended Practices (2003).

Mark and Christa are accompanied by Moon, an eighteen-year-old survivor of child sex trafficking. Moon's birth mother sold her into slavery at the age of twelve weeks; when she turned thirteen, her virginity was sold for approximately $800. The following year, she was forced to work in a brothel, where she was routinely threatened with disfigurement and torture if she did not comply with customers. She was not saved until the police and the International Justice Mission (an evangelist group) raided the brothel a month after she had been forced to labor there. According to UNICEF, Moon is merely one out an estimated one million children who annually enter the multibillion-dollar industry of commercial sexual exploitation.

When they heard of her story, Mark and Christa sought out Moon and began working with her to help repair the unspeakable damage that had been inflicted on her. All three are very active in seeking to extirpate this horrific practice, as well as helping former victims to transition into a socially viable source of income.

Mark and Christa are both active in writing, speaking, teaching, and advising about issues of prostitution and human trafficking in the Mekong Sub-region. They form part of the Athenaeum's continuing series, Life After CMC.