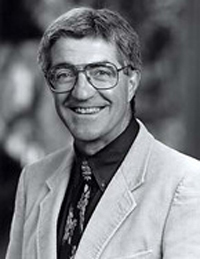 The Present Disconnect in American Politics
MORRIS FIORINA
THURSDAY, MARCH 8, 2007
Lunch 11:45 a.m., Lecture 12:15 p.m.
The 2000 presidential election. Red states versus blue states. Pro-choice versus pro-life. The Culture War. Is the United States on the brink of a truly dangerous, perhaps irreversible, political polarization?

The distinguished political scientist Morris Fiorina argues that the so-called Culture War exists mainly because of the exaggerations of news media and extreme party activists, both liberal and conservative. They might see themselves as culture warriors, but in fact 80-90% of Americans do not notice a growing divide.

Fiorina is a Senior Fellow at the Hoover Institution and the Wendt Family Professor of Political Science at Stanford University. He previously held positions at the California Institute of Technology (1978-1982) and as the Frank Thompson Professor of Government at Harvard University (1982-1998). From 1986 to 1990 he served as the chairman of the Board of Overseers of the American National Election Studies. He is currently a member of the National Academy of Sciences and the American Academy of Arts and Sciences.

Fiorina's most recent book, Culture War? The Myth of a Polarized America (2004), coauthored with Samuel J. Abrams and Jeremy C. Pope, details how the media and political parties cultivate the culture war myth, and how the political elites emphasize cultural issues that the electorate finds peripheral.

Morris Fiorina's lecture at the Athenaeum is sponsored by the Salvatori Center for the Study of Individual Freedom in the Modern World.