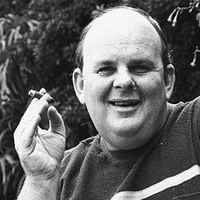 An Evening with the Poet
LES MURRAY
MONDAY, MARCH 19, 2007
Leslie Allan Murray was born in 1938 in Nabiac, a village on the north coast of New South Wales, Australia, spending his childhood on his father's dairy farm nearby. Biographer Peter Alexander writes, "His parents were poor and their weatherboard house almost bare of comforts; Murray remarked that it was not until he went to the university that he first met the middle class. His identification was with the underprivileged, especially the rural poor, and it was this that gave him his strong sense of unity with Aborigines and with 'common folk.'" Les currently resides in the Australian countryside in Bunyah, New South Wales.

He has published some thirty books of poetry, prose, criticism, and edited collections of poetry, including The New Oxford Book of Australian Verse (1986), and most recently, Hell and After: Four Early English-language Poets of Australia (2005). His work has garnered several awards, including the Petrarch Award (1995), T.S. Eliot Prize (1996), and the Queen's Gold Medal (1998), under the recommendation of the poet Ted Hughes. His newest collection is The Biplane Houses, published in April of 2006.

Murray's work is studied in schools and universities around the world and his poetry has been translated into ten languages: German, Italian, Spanish, Catalan, Norwegian, Danish, Swedish, Hindi, Russian and Dutch. Translations of his notable epic, Fredy Neptune (for which Murray was given the Queen's Gold Medal) continue to collect prizes. There are several critical editions dedicated to the study of his poetry. The U.K.'s Independent on Sunday recently stated that Murray is "one of the finest poets writing in English, one of a superleague that includes Seamus Heaney, Derek Walcott and Joseph Brodsky."