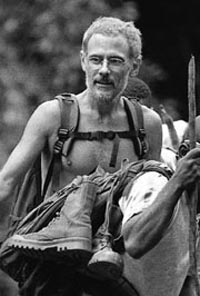 Saving Africa's Eden
J. MICHAEL FAY
TUESDAY, MARCH 20, 2007
"When it comes to a practical knowledge of the geography of central Africa, there is hardly anybody around who knows what he knows, who's been where he has, who's documented it. In that sense he's a classical explorer. But he's much more than that. He's living at a moment in time when the last forests are being destroyed, where the opportunity to save that world is fading rapidly."
-Peter Raven, botanist, conservationist, head of the Missouri Botanical Garden

Explorer, botanist, anthropologist, and zoologist, J. Michael Fay spent 455 days in 1999 and 2000 conducting the Megatransect - a massive expedition in which he walked across the Congo Basin forest. Aiming to document the vanishing wildlife of the region and increase public awareness, he kept hundreds of pages of notes and shot over 500 hours of video and audiotape of the region. Due to his work and expertise in various scientific disciplines, Fay was able to present both the big picture of wildlife conservation as well as the interdependence among species. As John Robinson, vice president of the Wildlife Conservation Society stated, "Mike crossed over to the wild side and went in deep enough and stayed there long enough that, as he walked, he could see the effects people on the outside were having on the natural environment he was in." Due in part to the publicity the walk received, the government of Gabon declared its first-ever national park system, creating 13 new national parks, spanning some 10,000 square miles. He followed up the ground based trek with an "Africa Mega Flyover" in 2004, which was a 7 month aerial overview of human impacts on the African ecosystem. More recently he has been studying elephant poaching in Chad. His Athenaeum talk will focus on how killing off the natural world has important local impacts on the ecosystem.

Fay has endured many trials in his quest to protect Africa's diverse wildlife including a plane crash, many bouts of malaria, and face-to-face confrontations with armed poachers. He even survived an attack by an African elephant while trekking through a national park in Gabon. "Elephants will always be my friends, but I may just slow down on the level of interaction I have had in the past," he said.

Fay spent his childhood in Pasadena and attended the University of Arizona for an undergraduate degree in botany. College was followed by six years of Peace Corps service as a botanist in national parks in Tunisia and the savannahs of the Central African Republic. Fay attended graduate school at Washington University in St. Louis and conducted dissertation research on the lowland gorilla population in the forests of the Central African Republic. He went on to create the Dzanga-Sangha and Nouabale-Ndoki wildlife refuges in the Central African Republic and Congo. He is currently a National Geographic Explorer and based at the Wildlife Conservation Society in New York.

Michael Fay's visit to CMC is jointly sponsored by the Roberts Environmental Center and the Athenaeum.