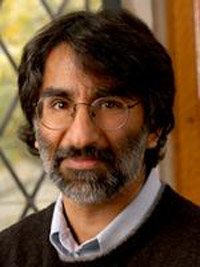 America's Constitution: As Seen from the Pacific Ocean
AKHIL REED AMAR
THURSDAY, MARCH 22, 2007
Drawing upon his recent book, America's Constitution: A Biography (2006), Yale Law Professor Akhil Reed Amar will explore how the American West has shaped the American constitutional experience over the centuries. Beginning with the Eastern states' decision to "form a more perfect union" largely in order to consolidate and coordinate their control over the West, Professor Amar will show that the West has played a far larger role in the American constitutional saga than is generally understood.
Akhil Reed Amar is the Southmayd Professor of Law and Political Science at Yale University and is considered one of the top constitutional law experts of his generation. He received his B.A. summa cum laude, in 1980 from Yale College, and his J.D. in 1984 from Yale Law School, where he served as an editor of The Yale Law Journal. After clerking for Judge Stephen Breyer, U.S. Court of Appeals, 1st Circuit, Professor Amar joined the Yale faculty in 1985. He is the author of several books, including The Constitution and Criminal Procedure: First Principles (1998), The Bill of Rights: Creation and Reconstruction (2000) and most recently, America's Constitution: A Biography. Amar has been cited by the Supreme Court more often than any other scholar under 45, and is one of the most frequently quoted academics in America. He was also a consultant to the popular television show The West Wing and serves on the Board of Directors for the National Constitution Center.

Akhil Reed Amar's visit to CMC is sponsored by the Salvatori Center for the Study of Individual Freedom in the Modern World.