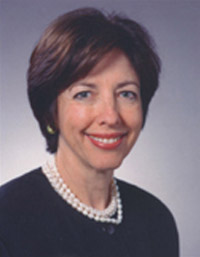 China: Fragile Superpower
SUSAN SHIRK
MONDAY, APRIL 2, 2007
China has sought to prove itself a responsible power as it has grown in economic and military strength. But how might China's domestic politics derail its peaceful rise? And what can the United States do to help keep China on a peaceful track?
Former Secretary of State Madeleine K. Albright calls Susan Shirk's new book, China, Fragile Superpower: How China's Interrnal Politics Could Derail Its Peaceful Rise (2007), "the definitive book at the right time." In her book and her talk at CMC, Susan Shirk opens up the black box of Chinese politics to reveal how the insecurity of China's communist leaders drives their international actions in ways that have serious consequences for the future security of the United States and China's Asian neighbors.
Shirk has been studying and visiting China since 1971 and is an important player in American policy toward Asia, as well as a highly regarded China scholar. She is the director of the University of California system-wide Institute on Global Conflict and Cooperation (IGCC) and a professor in the Graduate School of International Relations and Pacific Studies, University of California, San Diego. In addition to her new book, her writings include How China Opened its Door: The Political Success of the PRC's Foreign Trade and Investment Reforms (1994); The Political Logic of Economic Reform in China (1992); Competitive Comrades (1982); and numerous scholarly and popular articles.
Dr. Shirk served as Deputy Assistant Secretary of State with responsibility for China, Taiwan, Hong Kong, and Mongolia from 1997-2000. In that capacity, she handled the visits of President Jiang Zemin and Premier Zhu Rongji to the United States, the visit of President Bill Clinton to China, the aftermath of the accidental bombing of the Chinese embassy in Belgrade, and the WTO negotiations with China. Before serving in the Department of State, Dr. Shirk was a member of the Defense Policy Board. She also is the founder (1993) and leader of the Northeast Asia Cooperation Dialogue, an unofficial multilateral process for discussion of regional security issues among government officials, military officers, and academic experts from the United States, Japan, China, Russia, South Korea, and North Korea. She received her doctoral degree from MIT.

The Keck Center for International and Strategic Studies is pleased to host Dr. Shirk's visit to CMC as a Freeman Foundation Visiting Professor in Asian Affairs.