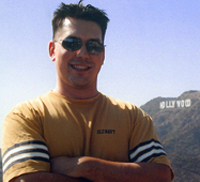 Independent Producing and the Art of Staying Busy in Hollywood
LANCE LANFEAR '99
THURSDAY, APRIL 19, 2007
As part of the continuing lecture series Life after CMC, the Athenaeum is pleased to welcome back Lance Lanfear '99. Lance started Fearless Productions nine years ago, while attending CMC. As a student at CMC he produced numerous recruitment, instructional, and professional videos for almost every department and organization associated with The Claremont Colleges. Lance then went on to receive the "Best Directing" acknowledgement from his professor and peers at the summer New Film Academy program at UCLA. After majoring in both film studies and psychology (a key element in his success as a producer), Lance jumped at every position and challenge offered him. In the last six years, Lance has been an assistant director on nearly 40 productions.

However, Lance's real passion is still within the independent film world, where "projects and scripts can stay honest and pure." Joining Jake's Closet (2007) was a rare opportunity to help produce a movie that deserved to be made. Among his other productions, The Vinyl Battle (2002) and Counter Productive (2006) have proven to be two more homages to Lance's love for the indie filmmaking industry. The writers and directors for both of these full shorts will also be on hand to answer questions at the end of the evening.

Seen through the eyes of a six-year-old, the film Jake's Closet follows Jake as he investigates the terrifying noises coming from his closet every night. The true story of the film is what he discovers in the process of looking for the monster — a reality that will haunt him forever. There will be a screening of Jake's Closet in Pickford Auditorium on Wednesday, April 18th at 9:00 PM. All are welcome and there is no charge.