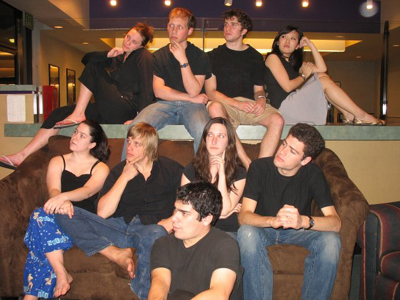 Dinner Theater
The Real Inspector Hound by TOM STOPPARD
WEDNESDAY-FRIDAY, APRIL 11-13, 2007
DINNER 6:00 p.m., PERFORMANCE 6:45 p.m.
The sophisticated British wit of Tom Stoppard is on full display in The Real Inspector Hound (1968). During his career, Stoppard has enthralled audiences with such works as the Academy Award winning Shakespeare in Love (1998) and the Tony Award winning The Real Thing (1982). He is known for the clever wordplay in his plays and his skill with parody and satire.

The Real Inspector Hound is a delightful comedy which follows two theater critics: Birdboot, a serial philander, and the insecure and self-absorbed Moon, as they are drawn into the action of the absurdly bad murder mystery they are supposed to be reviewing. They must contend with a cast of characters including a rakish gentleman, a cantankerous Canadian, and an incompetent police detective. The plot of the show concerns the efforts of the characters to discover the murderer or murderers responsible for the appearance of corpses in the parlor of the Muldoon estate and has many exciting twists and turns, which will keep the audience on its toes and entertained. The off the wall antics of both the characters in the play within the play and the critics provide plenty of laughs for the audience. The show is not simply a ridiculous farce, but like other Stoppard works, it has some real depth and gives the audience something to think about in addition to the jokes.

The Real Inspector Hound is directed by Julian Dormady '08, with technical direction by Lauren Mikov '07. The cast consists of Amanda Sardis '09, Brad Walters '08, Silvia Lu '08, Benjamin Fidler '08, Annie Fairman '07, Ariel Boorstin '07, Colin McDonell '08, Brendan Sasso '10, and Linsday Mandel '09. This Dinner Theatre production is made possible by Under the Lights, the Marian Miner Cook Athenaeum, and ASCMC.