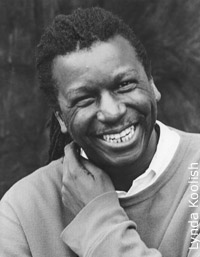 An Evening with the Poet
CORNELIUS EADY
WEDNESDAY, SEPTEMBER 12, 2007
"Cornelius Eady's poems are joyous, incantatory, experiential. [His] work is a glossary of earthly objects and human events, and his linguistic responses provide pleasure even when they are provoked by injustice, or by pain, or by loss."
—Dia Art Foundation
Cornelius Eady is a poet steeped in the black American traditions of jazz, blues, and folk culture. He is the author of six books of poetry: Kartunes (Warthog Press, 1980); Victims of the Latest Dance Craze (Ommation Press, 1986), winner of the 1985 Lamont Prize from the Academy of American Poets; The Gathering of My Name (Carnegie Mellon University Press, 1991), nominated for the 1992 Pulitzer Prize in Poetry; You Don't Miss Your Water (Henry Holt and Co., 1995); The Autobiography of a Jukebox (Carnegie-Mellon University Press, 1997); and Brutal Imagination (Putnam, 2001). His work has appeared in many journals, magazines and anthologies.

Eady is associate professor of English and Director of the Creative Writing Program at the University of Notre Dame. With poet Toi Derricote, he is also co-founder, with poet Toi Derricote, of Cave Canem, a summer workshop for African American poets. He is the recipient of numerous awards including a NEA Fellowship in Literature (1985), a John Simon Guggenheim Fellowship in Poetry, (1993), and The Prairie Schooner Strousse Award (1994).

Eady's poems embody a musical quality drawn from the blues and jazz. Indeed, many of his poems allude to traditional African-American hymns and modern musicians such as Thelonious Monk and Miles Davis. He visits the Athenaeum in conjunction with Professor Adam Bradley's course "20th Century Black Poetics".