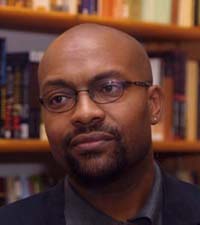 Burying the "N" Word?
JABARI ASIM
MONDAY, SEPTEMBER 17, 2007
In July 2007 the NAACP (National Association for the Advancement of Colored People) held a funeral and burial of the n-word where thousands gathered during their national convention in Detroit. This was followed by other burials in Philadelphia and Houston. Alpha Phi Alpha, the nation's largest and oldest Black fraternity, has recently taken a stand, encouraging fraternity members across college campuses to not hire DJ's who use the racial slur. What is your perspective on the use of this word? Where do you stand? Where do we stand as a college community?

Jabari Asim comes to the Athenaeum as the first speaker in a series of programs coordinated by the Dean of Students and the Athenaeum and designed to provoke a meaningful discussion on this controversial issue.

Jabari Asim's work, infused with wit and independent thinking, reflects his wide literary experience as a poet, novelist and critic. As Senior Editor of the Washington Post Book World, he helps determine coverage of poetry, essays, fiction and nonfiction created around the world. His views are featured in his weekly syndicated newspaper column for the op-ed pages, which discusses everything from politics to social issues to popular culture.

In addition to his groundbreaking book, The N Word: Who Can Say It, Who Shouldn't, and Why (2007), Asim has also published his own works in a number of anthologies and literary magazines. He was the only writer to have both poetry and fiction included In the Tradition: An Anthology of Young Black Writers (1992). Road to Freedom (2000) is his first novel for young readers. His reviews and cultural criticism have been published in the Los Angeles Times Book Review, the International Herald Tribune, and Salon.com.