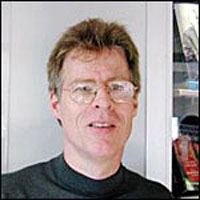 The Future of the Fourth Estate
NEIL BUDDE
WEDNESDAY, OCTOBER 10, 2007
Neil Budde joined Yahoo! News in November 2004 as General Manager and helped build it into the most visited online news site in the world. In January 2007, he was promoted to Editor in Chief over Yahoo! News, Yahoo! Sports and Yahoo! Finance, and now focuses on the content and editorial operations of these three U.S. news sites. In 2005, Budde's team launched Yahoo!'s first foray into original multimedia news coverage with Kevin Sites in the Hot Zone, for which Kevin Sites received the 2006 Daniel Pearl Awards for Courage and Integrity in Journalism and a National Headliner Award.

Before joining Yahoo!, Budde was the founding editor and publisher of The Wall Street Journal Online. Budde's career began with a decade of experience as an editor and reporter at The Richmond Times-Dispatch, The Courier-Journal in Louisville, Ky., and USA Today. Budde earned a Bachelor of Arts degree in journalism from Western Kentucky University and an MBA from the University of Louisville. Budde is on the board of directors of the Online News Association and is its treasurer in 2007-08. He also is on the board of the California First Amendment Coalition.

Neil Budde's Athenaeum lecture is part of the series Governance in 21st Century Organizations sponsored by the Kravis Leadership Institute at CMC.