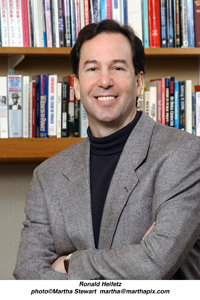 Leadership, Authority, and the Paradox of Trust
RONALD HEIFETZ
THURSDAY, SEPTEMBER 27, 2007
Ronald A. Heifetz, Co-Founder of the Center for Public Leadership and King Hussein bin Talal Lecturer in Public Leadership at Harvard University's John F. Kennedy School of Government, is known worldwide for his seminal work on the practice and teaching of leadership. His research at Harvard focuses on how to build adaptive capacity in societies, businesses, and nonprofits. For more than two decades, Heifetz's courses on leadership have been among the most highly valued in the University, and his first book, Leadership Without Easy Answers (The Belknap Press of Harvard University Press, 1994), currently in its thirteenth printing, has been translated into many languages. His more recent study, Leadership on the Line: Staying Alive through the Dangers of Leading (Harvard Business School Press, 2002) was co-authored with Marty Linsky.

The subject of many interviews, articles, and the recent book by Sharon Daloz Parks, Leadership Can Be Taught (Harvard Business School Press, 2005), Heifetz speaks extensively in the U.S. and abroad and consults widely with presidents and senior executives in government, business, and nonprofit organizations. Heifetz is a founding principal in Cambridge Leadership Associates (www.cambridge-leadership.com).

A graduate of Columbia University, Harvard Medical School and the John F. Kennedy School of Government, Heifetz is both a doctor and a musician. He trained initially in surgery before deciding to devote himself to the study of leadership in politics and business. Heifetz completed his medical training in psychiatry. As a cellist, he studied with the great Russian virtuoso, Gregor Piatigorsky.

Dr. Heifetz' visit to CMC is sponsored by the Kravis Leadership Institute as part of Leadership Day 2007. KLI invites broad participation in Leadership Day, which includes a luncheon, panel, and other activities capped by Heifetz' evening lecture. His topic for the lecture is "Leadership, Authority, and the Paradox of Trust".