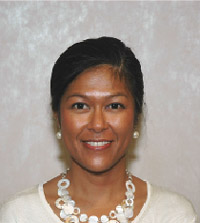 Combating Terrorism with Socioeconomics: Leveraging the Private Sector
MIEMIE WINN BYRD '89
MONDAY, OCTOBER 8, 2007
LUNCH 11:45 a.m., LECTURE 12:15 p.m.
Globalization has produced winners and losers. It has brought about a large gap and economic inequities between the rich and poor. In the eyes of violent extremists, negative underlying conditions provide an opportunity to gain support to advance their agendas. They exploit the inequitable, hopeless and poverty stricken environments and circumstances to attract the large numbers of people needed to effectively move their objectives forward. Therefore, a long-term comprehensive counterterrorism strategy must address these negative socio-economic factors. The U.S. government and the military must consider the powerful role that private sector could play in creating sustainable positive socio-economic conditions in areas that are vulnerable to terrorist recruitment.
Miemie Winn Byrd is an associate professor of economics at Asia Pacific Center for Security Studies in Honolulu, Hawaii. Prior to her current position, Major Byrd was recalled to active duty under Operations Enduring Freedom (OEF) and served as the Deputy Economic Advisor for the Strategic Planning and Policy Division, Civil-Military Operations Plans Officer for OEF-Philippines, Interagency Operations Officer for Joint Interagency Coordination Group for Combating Terrorism (JIACG-CT) at U.S. Pacific Command, Camp H.M. Smith, Hawaii from 2003 to 2007.
Prior to the mobilization, Ms. Byrd was the Controller for Law and Economics Consulting Group (LECG) in the San Francisco Bay Area. Her sixteen years of civilian professional experience include a wide range of auditing, accounting, and financial management positions with multinational corporations such as Gillette, GTE, and Ernst & Young and also with a Silicon Valley start-up firm, Wyzdom.com. Her unique blend of experiences in the private sector and military gave rise to her current interest and research area of leveraging the private sector in U.S. Pacific Command's counterterrorism strategy for the Asia Pacific Region.
Ms. Byrd received a B.A. in Economics and Accounting from Claremont McKenna College and holds a MBA with emphasis in Asia-Pacific Economics and Business from University of Hawaii.

Miemie Byrd's lecture is sponsored by The Keck Center for International and Strategic Studies.