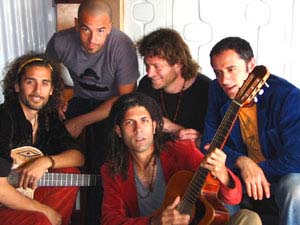 Los Pinguos: A Musical Celebration for the Pacific Coast Council on Latin American Studies Conference
ADRIAN BUONO, guitar
JOSE AGOTE, guitar
JUAN MANZUR, guitar
JUAN MANUEL LEGUIZAMON, percussion
SANTIAGO LEE, guitar
FRIDAY, NOVEMBER 2, 2007
LUNCH 12:15 p.m., PERFORMANCE 12:30 p.m.
Described as a "hot Argentine folk groove band" and the "South American version of the Beatles," Los Pinguos came to the U.S. with every intention of making some noise. With Spanish guitars, a Cuban Tres and a Peruvian cajon (box-drum), musicians Adrian Buono, Jose Agote, Juan Manzur and Juan Manuel Leguizamon began playing together in Buenos Aires in 1999. Vivacious and infectious, their music garnered a devoted fan base in Argentina, inspiring the ensemble to pursue global attention.

Los Pinguos made its Los Angeles debut at local bars such as the Latin Lounge, the Knitting Factory and Key Club. But it was at Santa Monica's 3rd Street Promenade that the band realized its potential to reach a wide and diverse audience. There, a talent scout heard their music and urged them to audition for a new television show, "The Next Big Star," at which Los Pinguos claimed the Grand Prize.

Since then, they have signed a publishing deal with Latin music heavyweight Peermusic (Juanes, David Foster), recorded four new albums –"Camino Bueno" (2002), "Serenata" (2003), "Live In Los Angeles" (2005) a live double CD on Kufala Records and "Peripecias" (2006) recorded at the famous Boat Recording Studio. They've played with such acts as Ozomatli, Yerba Buena, Charlie Zaa and Pablo Montero at the Wiltern Theatre, Paul Anka and Plácido Domingo at the Music Center of Los Angeles, Charly Garcia and famed Argentinean rockers Bersuit Vergarabat. They also appeared at the 2005 SUNDANCE FILM FESTIVAL with female songstress Suzanne Vega. Los Pinguos' music has appeared in TV shows such as "The Shield", "The L Word", and is featured in the Antonio Banderas and Emma Thompson film "Imagining Argentina". Most recently, they have appeared on two of the world famous Putumayo World Music compliations, "Baila!" and "Radio Latino".

The band will be playing in celebration of the annual Pacific Coast Council on Latin American Studies Conference which has come for the first time to Claremont McKenna College. The conference is dedicated to the discussion, promotion, and celebration of Latin America and brings together diverse scholars and practitioners from the West Coast of the United States, Canada, and Mexico.