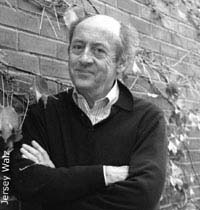 An Evening with the Poet
BILLY COLLINS
MONDAY, OCTOBER 29, 2007
Billy Collins' influence as a poet cannot be overstated. As a pioneer of American poetry, Collins attempts to produce what he calls "hospitable" poems; poems that travel along with the reader and make the reader feel at home. His work is clear and free of pretension, and he has been hailed as a "modern-day Robert Frost." He rejects most classical attempts at formalism, preferring to emphasize the bare meaning of his poetry, and invented the "paradelle," a parody of strict poetic forms to illustrate the difficulty with obtuse poetry.

Collins has published numerous anthologies of his own poetry in addition to serving as editor of The Best American Poetry 2006 (2006). He has won many prizes from Poetry magazine, and was selected as their "Poet of the Year" in 1994, as well as becoming the first recipient of their new Mark Twain Prize for Humor in Poetry in 2005. Collins has won fellowships from the National Endowment for the Arts and the John Simon Guggenheim foundation, as well as the New York Foundation for the Arts. In 2001, Collins began his tenure as the 11th Poet Laureate of the United States, serving two terms, until 2003. Later, Collins accepted the position of the New York State Poet for 2004.

Collins is a graduate of the College of the Holy Cross and of the University of California, Riverside. He currently serves as a Distinguished Professor of English at Lehman College in the Bronx, New York, where he has been a member of the faculty since 1968. Collins has also served as a visiting writer and scholar at Sarah Lawrence College.

His most recent collection of poems is entitled, The Trouble with Poetry and Other Poems (2005), and he has also published a new anthology, 180 More: Extraordinary Poems for Everyday Life (2005), which continues his collection of contemporary poetry intended to be taught in schools.