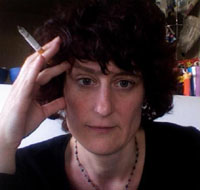 Is Judaism a Political Philosophy? Reflections on Spinoza, Strauss, and Levinas
OONA EISENSTADT
MONDAY, NOVEMBER 5, 2007
The Athenaeum is pleased to host Professor Oona Eisenstadt of Pomona College as the final speaker in the series on the political and Jewish thought behind the philosopher Leo Strauss. Professor Eisenstadt continues the exploration of the political theory to which Strauss contributed, and its intersection with modern Jewish theology. By looking at Strauss in the context of other Jewish philosophers, such as the French Jewish moral philosopher Emmanuel Lévinas and the Dutch philosopher Baruch Spinoza, Eisenstadt attempts to answer the question, "Is Judaism a political philosophy?"

Professor Eisenstadt holds the Fred Krinsky Chair of Jewish Studies and is assistant professor of Religious Studies at Pomona College, where she teaches about Jewish mysticism, religious ethics, and post-Holocaust philosophy. Eisenstadt received her undergraduate and doctoral degrees from McMaster University in Ontario, Canada, before moving on to postdoctoral fellowships at the University of Toronto and Hebrew University in Jerusalem. Her current research involves interdisciplinary approaches to Levinas' postmodern philosophy, as referenced in her book, Driven Back to the Text: The Premodern Sources of Levinas' Postmodernism, published in 2001.

Professor Oona Eisenstadt presents the final lecture in the series "Leo Strauss and Modern Jewish Thought," planned in conjunction with Professor Gary Gilbert and co-sponsored by the Center for the Study of the Holocaust, Genocide, and Human Rights.