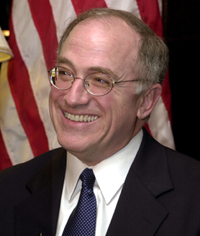 Podlich Distinguished Fellow
Annapolis and Beyond: High Stakes and High Risk in the Middle East Peace Process
DANIEL KURTZER
TUESDAY, NOVEMBER 27, 2007
Daniel C. Kurtzer holds the S. Daniel Abraham Chair in Middle East Policy Studies at Princeton University's Woodrow Wilson School of Public and International Affairs. Kurtzer retired from the Foreign Service at the end of 2005 with the rank of Career-Minister in the Senior Foreign Service. He served as the U.S. Ambassador to Israel (2001-2005), and as the U.S. Ambassador to Egypt (1997-2001).

During 29 years of public service, Kurtzer held a number of senior policy and diplomatic positions, including political officer at the American embassies in Cairo and Tel Aviv, speechwriter for Secretary of State George P. Shultz on the Policy Planning Staff, Deputy Assistant Secretary of State for Near Eastern Affairs, and Principal Deputy Assistant Secretary of State for Intelligence and Research.

Kurtzer received several of the U.S. Government's most prestigious awards, including the President's Distinguished Service Award, the Department of State Distinguished Service Award, the National Intelligence Community's Award for Achievement, and the Director General of the Foreign Service Award for Political Reporting. In 2005, Ambassador and Mrs. Kurtzer were awarded the Henrietta Szold Award by Hadassah in recognition of their distinctive service on behalf of humanitarian causes.

Since leaving government service, Kurtzer has authored numerous articles on United States policy in the Middle East. He served on the Iraq Study Group's expert subcommittees, and currently directs a project for the United States Institute of Peace on U.S. negotiating experience in the Arab-Israeli conflict. Kurtzer also serves on the Advisory Council of the American Bar Association's Middle East-North Africa Rule of Law Initiative. Ambassador Kurtzer received a B.A. from Yeshiva University in New York and Ph.D. from Columbia University. Between 1977-1979, he served as the Dean of Yeshiva College.

It is a pleasure to have Daniel Kurtzer take part in the 2007-2008 William F. Podlich Distinguished Visitors Program. This program was generously endowed by CMC alumnus and trustee William F. Podlich '66, whose aim is to enrich the college intellectually by bringing preeminent figures in scholarship, business, and public affairs to campus for extended visits.