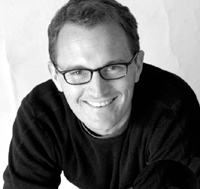 Changing the World with Water: Following Your Passions to Make a Difference
PETER THUM '90
FRIDAY, NOVEMBER 30, 2007
LUNCH 11:45 a.m. LECTURE 12:30 p.m.
Peter Thum, founder of Ethos Water and vice president at Starbucks, witnessed firsthand the effects of the water crisis on the world's poor while working in South Africa in 2001. He realized that people knew very little of this crisis, so he decided to create a brand of water that would promote awareness of the issue and fund programs for communities that lack clean water in Africa, Asia, and Latin America. His brand, Ethos Water, is sold at over 7,000 Starbucks locations. So far, Ethos has donated over $4.2 million to humanitarian water programs which help more than 370,000 people get safe water, and plans to invest at least $10 million through 2010.

Before founding Ethos, Thum worked as a consultant with McKinsey & Company in London and with Gallo Winery in sales management in Germany and brand marketing at its California headquarters and as an English teacher with Siemens in Germany. He received an MBA from the Kellogg School of Management at Northwestern University and graduated CMC in 1990 with a B.A. in Government. For more information about the conference visit: icc.ascmc.org.