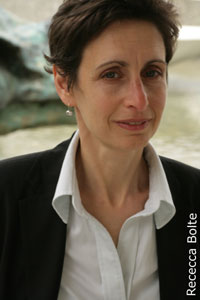 Field Notes from a Catastrophe: Man, Nature & Climate Change
ELIZABETH KOLBERT
TUESDAY, NOVEMBER 6, 2007
Climate change has become a dominating topic as of late, affecting not just science but also politics, business, and every other social field. What once was confined to academic discussions has now exploded onto the world stage, and has taken the blame for terrible natural disasters: Hurricane Katrina, Hurricane Rita, and the 2004 Indian Ocean Tsunami, to name but a few. Fears of rising oceans and glacial retreat threaten to disrupt human endeavors worldwide. In the debate about global climate change that has erupted, it is necessary to confront the facts with a cool and sober demeanor and determine the best course of action.

Elizabeth Kolbert has attempted to sort through the polemic and expose the direct consequences that climate change is already incurring. Through poignant stories about natural disasters and a thorough review of the leading scientific studies, Kolbert's book, Field Notes from a Catastrophe: Man, Nature, and Climate Change (2006), examines the climate change debate and explores that consequences that will result from what Kolbert refers to as an unprecedented "climate regime, one with which modern humans have had no prior experience."

Kolbert, a staff writer for The New Yorker, began her book as part of three-part magazine series, expanding it and updating it to take into account the wealth of unprecedented new scientific evidence. Kolbert has studied at Yale University and the Universitat-Hamburg in Germany, and has also worked as a journalist for the New York Times. She is also the author of The Prophet of Love and Other Tales of Power and Deceit (2004), a modern examination of the personalities that dominate New York politics.

Kolbert's talk is part of the Marian Miner Cook Athenaeum's ongoing series on climate change and is supported by a grant from the Andrew Mellon Foundation and the Roberts Environmental Center at CMC.