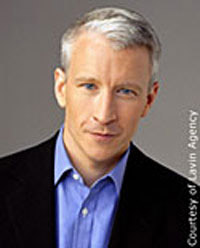 Today's Headlines with Anderson Cooper
ANDERSON COOPER
TUESDAY, NOVEMBER 13, 2007
LECTURE 11:00 a.m. MCKENNA AUDITORIUM
Emmy Award-winning journalist Anderson Cooper, host of CNN's Anderson Cooper 360 and a regular contributor to 60 Minutes, will visit McKenna Auditorium at 11 a.m. on Tuesday, November 13. His talk, "Today's Headlines with Anderson Cooper," will include time for discussion with students. In media circles, Cooper is considered to be a leading voice of a new generation of journalists who are injecting a sense of honest passion into their news broadcasts.

"I think the notion of the traditional anchor is fading away, the all-knowing, all-seeing person who speaks from on high," Cooper says. "I don't think the audience really buys that anymore. As a viewer, I know I don't buy it. I think you have to be yourself, and you have to be real, and you have to admit what you don't know, and talk about what you do know."

Since joining CNN, Cooper has anchored many of the decade's major news stories: he traveled to Sri Lanka to cover the devastating 2004 Indian Ocean tsunami, and was in Baghdad for the Iraqi elections. He also anchored much of CNN's live coverage of the funeral of Pope John Paul II in the Vatican City, as well as the Terri Schiavo story in Florida. For "America Votes 2004," he moderated a Democratic presidential candidates forum co-sponsored with Rock the Vote.

Cooper, born in 1967, is the son of writer Wyatt Emory Cooper and heiress and designer Gloria Vanderbilt. His journalism career would be sparked by the sudden death of his father in 1978 during heart bypass surgery. He would later reflect on that experience as a "slap of silence that reset the clock."

A few years later, Cooper would suffer another unexpected loss with the suicide death of his brother Carter. The losses, particularly of his brother, would galvanize his decision to become a journalist - a career path largely around his global coverage of war and natural disasters.

"Loss is a theme that I think a lot about, and it's something in my work that I dwell on," Cooper has said.

After graduating from Manhattan's The Dalton School, Cooper enrolled at Yale University, studying political science and international relations. In 1989, Cooper graduated from Yale and took a job with Channel One as a fact-checker and, within months, as chief international correspondent, reporting on and producing stories from Bosnia, Iran, Israel, Russia, Rwanda, Somalia, South Africa and Vietnam.

Several years later in 1995, he went to work for ABC News as a contributor to World News Tonight and 20/20, and as the anchor of ABC's live, interactive, overnight news program, World News Now. He joined with CNN in 2001, anchoring on American Morning with Paula Zahn.

It was Cooper's nearly non-stop reporting on Hurricane Katrina, an experience he recalls in his 2006 bestselling memoir Dispatches from the Edge, that made him a household name. His coverage lead to a much-discussed showdown with Louisiana Sen. Mary Landrieu that he recounts in Dispatches. At the time, Cooper told the politician that the people of New Orleans were "ashamed" of what was happening in their country.

Numerous awards for his work include an Emmy for his coverage of Princess Diana's funeral. Cooper has also received a Silver Plaque from the Chicago International Film Festival for his report from Sarajevo on the Bosnian civil war; a Bronze Telly for his coverage of famine in Somalia; a Bronze Award from the National Educational Film and Video Festival for a report on political Islam; and a GLAAD Media Award for Outstanding TV Journalism for his 20/20 Downtown report on gay high school athlete Corey Johnson. In 2005, Cooper was voted "Media Person of the Year" in an annual online poll.

In May 2006, Cooper became the newest contributor to CBS's news institution, 60 Minutes. That same month, he released Dispatches from the Edge, inspired by his time in New Orleans during the Hurricane.

Cooper's talk in McKenna Auditorium is for CMC persons only and reservations must be made online at the Athenaeum website reservation page. Overflow viewing will be in Pickford Auditorium.