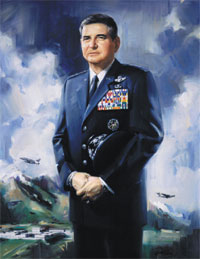 Accountability in the Service of the State: Basis, Expectations and Obligations
RONALD FOGLEMAN
TUESDAY, NOVEMBER 13, 2007
In his Athenaeum presentation, General Ron Fogleman explores the basis of the concept of accountability as it should apply to all of society and must apply to members of our armed forces. Accountability for one's actions is at the heart of the military ethos, a concept that seems to be lacking in society at large.

General Fogleman will relate his own experiences in dealing with the issue of accountability during a particularly turbulent time in the civil military relations in the mid-1990s. General Fogleman served as the Commander in Chief of the United States Transportation Command from 1992 to 1994 and as the Chief of Staff of the US Air Force and a member of the Joint Chiefs of Staff from 1994 to 1997. In the history of the Joint Chiefs of Staff he is the only service chief ever to request relief from his duties and early retirement on a matter of principle.

General Fogleman received his B.S. degree from the United States Air Force Academy and his M.A. in military history and Latin American studies from Duke University. Throughout a 34 year career he held command at every organizational level from flight to unified command. After retiring from the military he began a career in corporate governance in the private sector while devoting considerable time to community and national service. He is currently the chairman of The Durango Group, an international consulting company.

General Fogleman's visit is sponsored by the Keck Center for International and Strategic Studies.