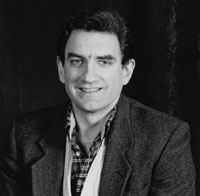 "Green" Industries in the 21st Century: Organization and Accountability
GREGG EASTERBROOK
WEDNESDAY, NOVEMBER 14, 2007
Gregg Easterbrook's writings cut across a broad swath of American society. He is senior editor of the political journal The New Republic, but this by no means constitutes the limit of his intellectual or journalistic interests and endeavors. He is also a contributing editor of The Atlantic Monthly and The Washington Monthly and a columnist for ESPN.com. His articles have also appeared in Slate, The Atlantic Monthly, The New York Times, The Washington Post, the Los Angeles Times, Wired, and BeliefNet.com, to name a few. As if his journalistic endeavors were not enough, Easterbrook is also a visiting fellow at the Brookings Institution, a Washington, D.C.-based think tank. In the past, Easterbrook worked as a staff writer and national correspondent for The Atlantic Monthly, a columnist for NFL.com, a contributing editor to Newsweek and U.S. News and World Report, and a distinguished fellow of the Fulbright Foundation.

The subjects of Easterbrook's commentary and criticism have been as diverse as his publications. He has written on the Space Shuttle program, global warming, NFL football, environmentalism, popular culture, and Christian theology, as well as two novels. One of his more recent works, The Progress Paradox: How Life Gets Better While People Feel Worse (2003), attempted to explain social data showing that Americans are better off in terms of free time and material goods but are not happier than before. Easterbrook's lecture at the Athenaeum will address the organization and accountability of "green" industries in an era of climate change.

Gregg Easterbrook's Athenaeum lecture is part of the series Governance in 21st Century Organizations sponsored by the Kravis Leadership Institute at CMC.