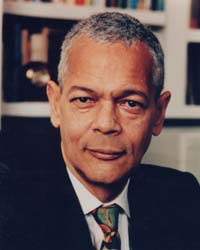 CMC'S 20TH ANNUAL LECTURE COMMEMORATING THE BIRTHDAY OF DR. MARTIN LUTHER KING JR.
Civil Rights: In the Day, Today, and Tomorrow
JULIAN BOND
WEDNESDAY, JANUARY 23, 2008
Each year, in honor of Dr. Martin Luther King, Jr., the Athenaeum invites a speaker to address students on the topic of the past, present, and future of civil rights in America. This year's speaker is an iconic leader in the struggle for racial equality, and his example shines through over forty years of leadership and service. From his role as founder and communications director of the Student Nonviolent Coordinating Committee (SNCC) in 1960 to his current position as Chairman of the National Association for the Advancement of Colored People (NAACP), Julian Bond has lived on the cutting edge of social change.

Bond's involvement with the civil rights movement began with his involvement in SNCC, the famous sit-in and anti-segregation organization that he began while a student at Morehouse College in Atlanta. Since that time, he has tirelessly advanced the cause of civil rights in politics, journalism, and literature. Bond was elected in 1965 to the Georgia House of Representatives and, overcoming the recalcitrance of members who objected to his opposition to the Vietnam War, he took his seat after three re-elections and a Supreme Court decision in his favor. His role as a public voice and advocate for equality and justice ranges from commentator on America's Black Forum, the oldest black-owned television show in syndication; narrator of the Academy Award-winning documentary A Time for Justice; commentator on The Today Show; and author of the nationally syndicated newspaper column "Viewpoint." Bond is the author of A Time to Speak, A Time to Act (1972), and his essays and poetry have been featured in numerous publications.

Since 1998, Bond has served as Chairman of the Board of the NAACP, the oldest and largest civil rights organization in the United States, and his sense of activism is undiminished. In 2002, he received the National Freedom Award. Bond also currently serves as President Emeritus of the Southern Poverty Law Center, and is a Distinguished Professor at American University in Washington, DC and a Distinguished Adjunct Professor of History at the University of Virginia. His passion for and knowledge of the American civil rights movement is unparalleled, and we are excited and deeply honored to have him with us.