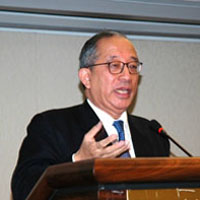 Japan's Foreign Policy: Between the Pacific Ocean and the Asian Continent
KAZUHIKO TOGO
THURSDAY, FEBRUARY 7, 2008
LUNCH 11:30 a.m., LECTURE 12:00 p.m.
Ambassador Kazuhiko Togo from Japan will address the two major strategic issues for Japan's foreign policy: how to maintain and strengthen its ties with the United States across the Pacific Ocean, and how to manage and overcome relations with the Asian Continent, notably those with China and Korea. The lecture will begin with a succinct historical perspective on what happened in 1945 and its lasting impacts. Ambassador Togo will then analyze how and why the alliance with the United States was strengthened steadily in the last six decades. He will conclude with an analysis of Japan's Asian policy, how and why it went through such a difficulty, but now faces a real crossroads.
Ambassador Togo is a visiting professor at Temple University, Tokyo. After graduating from Tokyo University in Japan, he joined Japan's Foreign Ministry in 1968, worked extensively on Soviet/Russian affairs, as well as on Europe, America, international law and economics. He served as Ambassador of Japan to the Netherlands before retiring in 2002. In 1995 he began teaching at universities in Moscow and Tokyo, and after retirement taught at Leiden, Princeton, Tansui (Taiwan), Santa Barbara and Seoul. His recent publications include Japan's Foreign Policy 1945-2003: The Quest For A Proactive Policy (2005) and The Inside Story of the Negotiations on the Northern Territory: Five Lost Windows of Opportunity (2007) (in Japanese). His edited works include Russian Strategic Thought toward Asia (2006) and Japanese Strategic Thought toward Asia (2007).
The Keck Center for International and Strategic Studies is pleased to host Ambassador Togo's visit to CMC as a Freeman Foundation Visiting Professor in Asian Affairs.