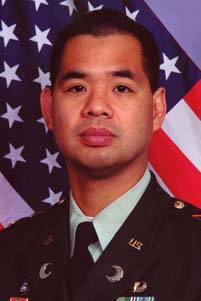 For God and Country
JAMES YEE
TUESDAY, FEBRUARY 5, 2008
As the War on Terror continues and the controversy over the U.S. detention center at Guantánamo Bay mounts, it has become increasingly difficult to ascertain the truth about American treatment of its detained enemy combatants. The Athenaeum is thus proud to welcome Chaplain James Yee, a former U.S. Army Captain who served as the Muslim Chaplain at Guantánamo Bay and has since become a vocal critic of the U.S. government's policy there. At Guantánamo, he ministered to the prisoners at the camp, and was twice awarded the Distinguished Service Medal for his outstanding performance. Nevertheless, Yee has since come out alleging serious mistreatment of the prisoners and arguing that most of the detainees have little or no intelligence value.

Despite Chaplain Yee's exemplary service, he was later arrested in September 2003 and charged with sedition, aiding the enemy, spying, espionage, and failure to obey a general order. After an intensive government investigation, during which Chaplain Yee was held in solitary confinement in a Naval brig for 76 days, the charges against him were dropped, with Major General Geoffrey Miller claiming that "national security concerns" prevented the release of the evidence against him. He then resigned from the Army and received an Honorable Discharge as well as a special commendation for "exceptionally meritorious service."

Yee, a Chinese American who graduated from West Point in 1990 before converting to Islam, has appeared on national and international news programs, ranging from The O'Reilly Factor to Al-Jazeera's From Washington, and is the author of For God and Country: Faith and Patriotism Under Fire (2005), an account of his experiences at Guantánamo Bay and his struggle to clear his name and earn an apology from the U.S. Military. Yee also holds a master's degree in International Relations and a Certificate of Islamic Studies, earned during his years in the Army for intensive study of the Arabic language and Islamic society and culture.

Chaplain James Yee's lecture is cosponsored by the CMC Dean of Students, the Muslim Student Association, and the Athenaeum.