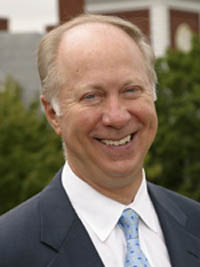 Eyewitness to Power: Leadership in America
DAVID GERGEN
TUESDAY, FEBRUARY 12, 2008
Commentator, editor, teacher, public servant, best-selling author and adviser to presidents – for 30 years, David Gergen has been an active participant in American national life. He served as director of communications for President Reagan and held positions in the administrations of Presidents Nixon and Ford. In 1993, he put his country before politics when he agreed to first serve as counselor to President Clinton on both foreign policy and domestic affairs, then as special international adviser to the president and to Secretary of State Warren Christopher.
David Gergen is a professor of public service and the director of the Center for Public Leadership at the John F. Kennedy School of Government at Harvard University. He is also editor-at-large at U.S. News & World Report and is a Senior Political Analyst for CNN. Mr. Gergen also regularly serves as an analyst on radio shows, and he is a frequent lecturer at venues around the world. In the fall of 2000 he published a best-selling book titled, Eyewitness to Power: The Essence of Leadership, Nixon to Clinton.
In the past, Mr. Gergen has served in the White House as an adviser to four Presidents: Nixon, Ford, Reagan, and Clinton. Most recently, he served for 18 months in the Clinton administration, first as Counselor to the President and then as Special Adviser to the President and the Secretary of State. He returned to private life in January 1995.
From 1984 to 1993, Mr. Gergen worked mostly as a journalist. For some two-and-a-half years, he was editor of U.S. News. Working with the owner and editor-in-chief Mortimer Zuckerman and a revived staff, he helped to guide the magazine to record gains in circulation and advertising. During that period, he also teamed up with Mark Shields for political commentary every Friday night for five years on the MacNeil/Lehrer NewsHour. The two were a popular political team and won numerous accolades for their political coverage.
A native of Durham, North Carolina, Mr. Gergen is an honors graduate of Yale University (A.B., 1963) and the Harvard Law School (LL.B., 1967). He is a member of the D.C. bar.
David Gergen comes to CMC as the eighth Pacesetters Fellow. The Pacesetters Fellowship Program is the culmination of the hard work and dedication of alumni from the classes of 1948, 1949, and 1950 - the Pacesetters. The program attracts leaders in business, academia, and public affairs to Claremont McKenna College for ono-on-one interactions with students. Mr. Gergen will also address members of the College's Res Publica Society at a luncheon in Newport Beach.