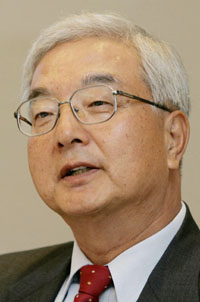 Asia and America in 2008
CHONG WOOK CHUNG
TUESDAY, FEBRUARY 19, 2008
The year of 2008 has an unusual significance for both Asia and America. It will be a year of uncertainty, expectation and transition. Political schedules are already full with elections to be held and new governments to be installed. In South Korea, for instance, a new government will soon be inaugurated, on February 25th. Many expect it to be different from ordinary transfer of power: it will usher in a new era of pragmatism in Korea and in the U.S.-Korea relations, too. Also, on Taiwan, a new president will be chosen in late March. If the general election in early January this year is any indication, there too will emerge a new government with a strong pragmatic orientation. Besides South Korea and Taiwan, elections are also planned in China and Russia, among others.
Rounding up this year of election, Americans will choose a new president in November. Although it is too early to predict the outcome of the election, it appears that the new American president, he or she, will confront a different Asia, different from what it has been so far. Beyond the immediate issues of North Korea's nuclear program and the Taiwan Straits, the uninterrupted rise of China after the Beijing Olympics in August this year will present both challenges and opportunities for the new American president. The implications of these to Asia and America will be explored.

Chong Wook Chung is an Asian specialist with an emphasis on China who has taught both in Korea and the United States. He also served in the Korean government as national security adviser to President Kim Young Sam in the early 1990s and later as Korean Ambassador to the People's Republic of China (PRC).
Dr. Chung has an undergraduate degree in international relations from Seoul National University (1965) and a Ph.D. in political science from Yale University (1975). He has taught at Yale University, American University in Washington, D.C. and Seoul National University.
He has written extensively on foreign policy and national security, particularly on matters related to China and the Korean peninsula. His book-length English publications include Maoism and Development (1980), Major Powers and Peace in Korea (1979) (co-editor), and Korea's Option in a Changing International Order (1993) (co-editor). He is currently a visiting professor at the Graduate School of International Studies, Seoul National University.
The Keck Center for International and Strategic Studies is pleased to host Chong Wook Chung's visit to CMC as a Freeman Foundation Visiting Professor in Asian Affairs.