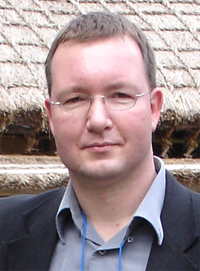 Changing North Korea: Beyond the Point of No Return?
RUDIGER FRANK
THURSDAY, FEBRUARY 28, 2008
North Korea has undergone substantial changes in the last decade, visible and invisible ones. However, we know little about the details of this development, its causes, and its direction. Is North Korea transforming, and if so, the European or the Chinese way? Is this process reversible? How does the nuclear issue fit into this picture? What can and should the international community do? These are some of the questions that will be discussed based on Rudiger Frank's theoretical analysis of Socialism's main features, personal experience of life under socialism in Europe and almost two decades of studying North Korea. The presentation is supported by photographs taken by the author during his visits to North Korea from 1991 to 2007.

Rudiger Frank is professor of East Asian Economy and Society at the University of Vienna and Director of the Vienna School of Governance. He is an adjunct professor at Korea University and the University of North Korean Studies in Seoul, and an affiliate researcher at the Modern East Asia Research Center in Leiden. He holds a master's degree in Korean Studies, Economics and International Relations and a Ph.D. in economics. He has spent one semester as a language student at Kim Il-sung University in Pyongyang in 1991/1992; his last visit to North Korea was in June 2007. His current research focus is the transformation of socialist systems in Europe and East Asia.

The Keck Center for International and Strategic Studies is pleased to host Dr. Frank's visit to CMC.