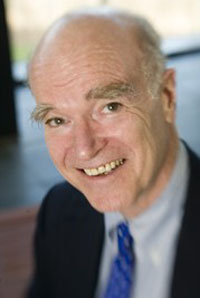 How Private Wealth is Changing the World
JOEL FLEISHMAN
MONDAY, MARCH 3, 2008
Joel L. Fleishman, Professor of Law and Public Policy at Duke University, was the founding director of Duke University's Terry Sanford Institute of Public Policy, is a founding member of the governing board of the Duke Center for Health Policy Research and Education, serves as the Director of the Samuel and Ronnie Heyman Center for Ethics, Public Policy and the Professions, and is the Director of the Duke University Philanthropic Research Program.

During his visit to the Athenaeum, Dr. Fleishman will discuss his recently published book, The Foundation: A Great American Secret; How Private Wealth is Changing the World (2007), in which he discusses the use of philanthropic capital. Fleishman has been active with foundations for decades, running foundations, sitting on boards, taking the role of the grant seeker as well as the grantor. He will discuss what foundations do and how they do it, addressing the issues of transparency and accountability. Over the coming years, the baby boom generation will supply a huge transfer of wealth to foundations. We can benefit by studying cases of both successful and unsuccessful foundation initiatives, and defining the leadership, focus, alignment, and measurement need to provide impact.

Mr. Fleishman received A.B., M.A. and J.D. degrees from the University of North Carolina at Chapel Hill, and an LL.M. degree from Yale University. His Athenaeum lecture is sponsored by the Kravis Leadership Institute as part of their series on Issues of Governance: the structure and accountability of 21st century organization.