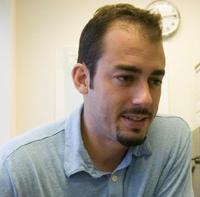 Journalism: A Crisis and a Model
SCOTT LEWIS
TUESDAY, MARCH 25, 2008
LUNCH 11:30 a.m., LECTURE 12:00 p.m.
On February 12, in a piece about the rise of nonprofit journalism, the Christian Science Monitor highlighted voiceofsandiego.org as the centerpiece of a new movement. The Monitor found that Voice "has managed to take on the powerful with the panache of a scrappy big-city paper." In just three years, the online daily news source has made a major difference in San Diego during a time of crisis in the world of journalism. Every day, it seems, another major metropolitan paper announces severe cutbacks in both coverage and talent. The reasons are obvious. Fewer and fewer people find themselves moved to buy services or commodities advertised inside a daily newspaper. Advertisers have found more economical and at the same time more successful ways of marketing their offerings. But journalism is still a vital function of a healthy society. Unfortunately, it no longer has the luck of being supported by such a profitable marketing sector.

What's happening in San Diego is one model of how communities might address this - journalism as a public benefit not a hugely profitable enterprise. Most newspapers spend upward of 60 or 70 percent of their budgets printing and distributing the paper product. Online ventures like voiceofsandiego.org can produce journalism without these costs. The San Diego CityBeat, in 2006, wrote that Scott Lewis, co-editor of voiceofsandiego.org, had become "one of the most important opinion leaders in San Diego." Scott oversees the website's daily production, the business operations and commentary that appears on the site. He also writes a weekly column and maintains a blog on San Diego politics. He will speak about how he and his staff are working to provide one model for how journalism might survive the destruction of its traditional business model.

This lecture by Scott Lewis is sponsored by the Rose Institute of State and Local Government at CMC.