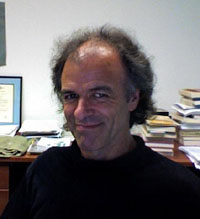 The Challenge of Yoga: Enlightened Engagement in Patanjali's Yoga-Sutra
IAN WHICHER
WEDNESDAY, APRIL 23, 2008
In 1999 CMC alumnus L. J. Kutten '74 endowed a lectureship in philosophy and religion to bring to campus scholars from traditions outside the mainstream of western religions. This past year, the L.J. Kutten lecture featured a presentation by Tim Ward in September and now this talk by professor Ian Whicher.

Ian Whicher challenges the often held radically dualistic and isolationistic interpretations of Yoga and suggests that as classically envisioned Yoga does not lead to the condemnation or abandonment of material life but to an enhanced engagement with the world, an engagement that seeks to enrich human interactions within the world. Rather than approach Patanjali's thought from the perspective of a set of dualistic metaphysical assumptions derived from classical Samkhya, this paper pursues a reading of theYoga Sutra that privileges the experience of yoga over metaphysical abstraction. Drawing from classical texts, it is argued that Yoga can culminate in a balanced integration of the spiritual and material dimensions of human life. Yoga can thus be seen to incorporate a clarity of awareness with the integrity of being and action Professor Whicher will explore Patanjali's Sutra in his lecture at the Athenaeum.

Professor Whicher is a Canadian and earned his PhD from the University of Cambridge, England. He is currently a Professor in the Department of Religion at the University of Manitoba in Winnipeg, Canada. Whicher specializes in philosophies of India and the Yoga tradition. He is co-editor of Yoga: The Indian Tradition (2003) and the author of several books and articles, including The Integrity of the Yogo Darsana: A Reconsideration of Classical Yoga (1998) and Patanjali's Metaphysical Schematic: Purusa and Prakti in the Yoga-Sutra (2001). He is currently engaged in a project on The Reconciliation of Action and Contemplation in the Yoga Tradition.