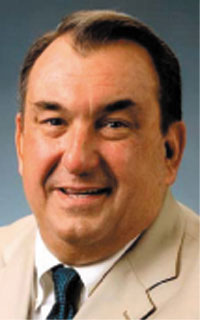 Claremont McKenna Economics Society Award Dinner
The Global Energy Challenge: Why Economics Matters More Than Ever
JOSEPH PETROWSKI P'08
TUESDAY, MAY 6, 2008
Joe Petrowski is President and CEO of Gulf Oil in Boston, MA and a board member of the Financial Economics Institute at Claremont McKenna College.

Gulf Oil is a $6 billion wholesaler of refined petroleum products. The company supplies over 2500 gasoline stations and delivers products and associated financial and logistical services to wholesale and retail customers throughout the Northeast. Prior to joining Gulf, Joe had been President of Louis Dreyfus Energy and Consolidated Natural Gas.

Joe is a 1976 Honors Graduate of Harvard College with a degree in economics and government. He and his family live in the Boston area and Joe is a member of the CMC Parents Committee, Northeast. As a member of the Financial Economics Institute board, Joe brings his broad knowledge of energy resources and issues to the Institute's study of finance and risk management.