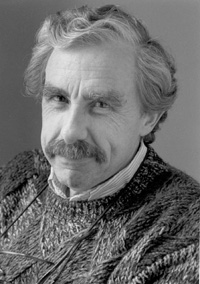 Fatherhood: Remembering the Past, Imagining the Future
ROSS PARKE
TUESDAY, APRIL 15, 2008
Ross D. Parke is Distinguished Professor of Psychology and Director of the Center for Family Studies at the University of California, Riverside. His interests include fatherhood, the relation between families and peers, ethnic variation in families, and the impact of the new reproductive technologies on families. His research focuses on the development of social behavior in young children. As part of a long-standing exploration of mother-father differences in styles of interaction, Dr. Parke is examining the linkages between family and peer social systems. He is interested in the lessons that are learned in the family that, in turn, influence children's adaptation to peers. With the support of grants from the National Science Foundation and the National Institute of Child Health and Human Development models of how family and peer systems are linked are being tested in cross-sectional and longitudinal studies using a variety of approaches including lab observational strategies. In addition, Parke is participating in the NICHD National Consortium on Early Child Care and Development, a multi-site longitudinal study of the effects of out of home child care on children's social, emotional, and cognitive development. With colleagues at the Center for Family Studies, an interdisciplinary group, he is exploring the impact of economic stress on adaptations in families of different ethnic backgrounds with the support of an NIMH grant.

Professor Parke has served as Editor of Developmental Psychology and the Journal of Family Psychology, and as Associate Editor of Child Development. He is past president of the Division of Developmental Psychology of the American Psychological Association and of the Society for Research in Child Development. He was recently awarded the graduate student mentoring award from the graduate division of UCR. He is author of several books including Fatherhood (1996) and coauthor of Throwaway Dads: The Myths and Barriers that Keep Men from Being the Fathers They Want to Be (1999) (with Armin Brott) and Child Psychology: A Contemporary Viewpoint (with E. Mavis Hetherington and Mary Gauvain) which will appear in its 7th edition in 2008.
His Athenaeum lecture is sponsored by the Berger Institute for Work, Family, and Children at Claremont McKenna College.