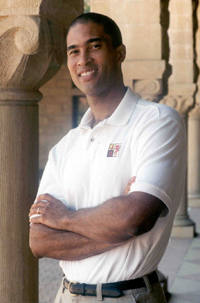 Great Expectations: The Stock Market, the Washington Consensus, and the Promise of Prosperity in the Developing World
PETER HENRY
THURSDAY, SEPTEMBER 25, 2008
Peter Henry is the Konosuke Matsushita Professor of International Economics at the Stanford University Graduate School of Business and a leading expert on the effects of economic reforms in emerging market countries. His research uses the stock market to assess the impact of economic reforms on the lives of people in developing countries. A central premise of his work is that using the stock market to evaluate economic reforms can help to minimize ideological differences, thereby enabling policy makers to grapple objectively with some of the most important and controversial economic questions of our time: Is it possible to stabilize inflation without undermining economic growth? Should emerging nations permit capital to flow freely in and out of their economies? Does debt relief help or hurt developing countries? Professor Henry's Athenaeum lecture will focus on the importance of past and future economic reforms for raising standards of living in emerging market countries.

Professor Henry received his bachelor's degree in economics from the University of North Carolina and a Ph.D. in economics from MIT. He played on the varsity football team at UNC and was a finalist in the intramural slam dunk contest in 1991. He is a member of the Council on Foreign Relations, a Research Associate at the National Bureau of Economic Research, and leads the external economic advisory group of the presidential campaign of United States Senator Barack Obama. His research has been published in top economics and finance journals including the American Economic Review, Journal of Economic Literature, Journal of Finance, and the Journal of Financial Economics.

Peter Henry's Athenaeum lecture is cosponsored by the Lowe Institute of Political Economy and the Athenaeum at Claremont McKenna College.