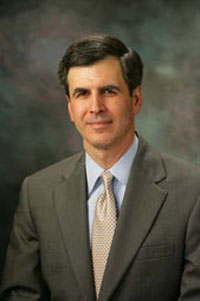 Robert Day School Distinguished Speaker Series
Lunch with a Leader: The Real Estate Industry
DAVID MGRUBLIAN '82 P'11
FRIDAY, SEPTEMBER 26, 2008
LUNCH 12:00 p.m. LECTURE 12:30 p.m.
As CEO of IDS Real Estate Group, David Mgrublian, who joined IDS in 1992, oversees its Real Estate Services, Residential, Corporate Services, and Advisor divisions. Mr. Mgrublian also selects and manages all institutional joint venture partners, evaluates all acquisitions, determines capital structures for all projects, approves and monitors asset management and development plans, and develops and implements strategic initiatives. Mr. Mgrublian came to IDS after a distinguished career as partner, marketing principal and leasing agent with Trammell Crow Company.

Holder of an MBA from Harvard University and a bachelor's degree in economics and political science from Claremont McKenna College, Mr. Mgrublian is a member of the Urban Land Institute's Urban Development/Mixed-Use Council.

Mr. Mgrublian is a trustee of Claremont McKenna College and Westridge School in Pasadena, and a director of the Western Diocese Armenian Church Summer Camp. He is a former chairman of the Board of Trustees of St. Mark's School in Altadena and a former alumni association president and student body president of Claremont McKenna College.

During his Athenaeum presentation, Mr. Mgrublian will share insights gained from his experiences since graduating from CMC. He will also discuss the real estate industry while explaining the role of IDS within the industry. Finally, Mr. Mgrublian will share some of his strategies for success.