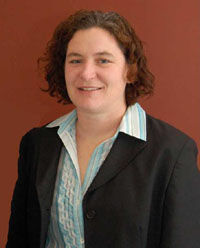 A Personal Journey
BETH BURKHART '94
MONDAY, SEPTEMBER 22, 2008
Beth Burkhart '94 is a marketer and filmmaker with a passion for social justice. Since 1999 she has worked in marketing management at The Clorox Company, a leading consumer packaged goods company with $5 billion in annual sales based in Oakland, California. In her tenure, she has managed the business and marketing plans for marquee brands such as Clorox and Pine-Sol.

Beth also produced an award-winning documentary feature film, The Believers (2006), which chronicles The Transcendence Gospel choir, the world's first transgender choir, as they influence church policy nationally and their community locally. The Believers is currently broadcast on LOGO, distributed to universities, libraries, and churches, and was named by Video Librarian as one of the top documentary films in 2007.

Burkhart has served on the SFLGBT Community Center board of directors since 2006 and is presently the board co-chair. She earned her MBA from UCLA's Anderson Graduate School of Management in 1999, her B.A. in Economics and International Relations from Claremont McKenna College in 1994 and was born and reared in Phoenix, Arizona. Presently she lives in Awesometown, USA, aka San Francisco, CA and enjoys taking advantage of the Bay Area's many gifts, including the fantastic food and thriving soccer community.