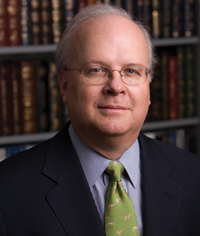 Politics and the Presidency
KARL ROVE
MONDAY, SEPTEMBER 15, 2008
In his acceptance speech for re-election in 2004, President Bush thanked Karl Rove as simply "the architect." Mr. Rove has known George W. Bush since he delivered a set of keys to him as chairman of the College Republicans in Washington, D.C. and Mr. Bush was a student at Harvard Business School.

Rove has advised the President on all of his political campaigns, beginning with his 1978 failed run for Congress. He started the direct-mail business "Rove and Company" in Austin, Texas in 1981. In the 1980s and 1990s, his business worked for the election of a number of Texas Republican candidates, including the Senate elections of Phil Gramm and Kay Bailey Hutchinson, and gubernatorial election of Bill Clements; all of these elections were noteworthy because voters had not elected Republican candidates to statewide office since Reconstruction until the 1980s. In 1993 he counseled George W. Bush to run for Governor against the popular Democratic incumbent Ann Richards. Mr. Bush won in 1994 and again in 1998, and Karl Rove was the architect of his 2000 and 2004 Presidential campaigns. In the White House, he was the Deputy Chief of Staff and Senior Advisor to President Bush from 2000-2007.

In the 2002 midterm elections and the 2004 reelection of President Bush, Rove made the decision to make the War on Terror a central issue of the ultimately successful campaigns for Bush and Republicans in Congress. In 2005, President Bush also made him an assistant to the President in addition to being deputy Chief of Staff and Senior Advisor, reflecting his importance in the Bush Administration. Currently, he is a contributor to Fox News.

Karl Rove's visit to campus is sponsored by the Pacesetters Fund and the Res Publica Society. Dinner seating in the Athenaeum is limited to the CMC community on a first-come basis. There will be an additional sign up on the reservation page for CMC persons only to attend the talk in the Athenaeum, also on a first-come basis. If you are already in the dinner, you do not need to sign up again, as this is for those CMC people who did not get into the dinner and wish to hear Karl Rove in the Athenaeum. General public viewing of the talk will be available in McKenna Auditorium.