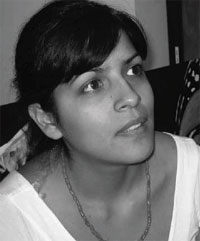 Literature YA! Engaging a New Generation of Readers
CLAUDIA MARTINEZ '00
WEDNESDAY, SEPTEMBER 17, 2008
Claudia Guadalupe Martinez first began exploring some of the core themes in her debut young adult novel, The Smell of Old Lady Perfume (2008), in a CMC Creative Journalism class taught by visiting professor Ruben Martinez. Several years and 248 pages later, Booklist says that readers will find the book's portrayal of "family, its nicely realized setting, and its artful exploration of the problems of assimilation to be both engaging and heartfelt." It is essentially a story of two borders - the one between two countries and the one between childhood and adolescence.

Martinez grew up in El Paso, Texas, just a stone's throw from the Mexican border. At CMC she was awarded a McNair Scholarship and served as Editor-in-Chief of The Claremont Colleges Collage newspaper. Her first appearance on the Athenaeum stage was with The Immaculate Conception of Virginia Manchado - a play she wrote, directed and produced as part of her senior thesis on "Chicana Theater."

In 2002, Martinez moved to Chicago to become one of the city's youngest non-profit executives, heading up a community non-profit at the age of 24. Most currently, Martinez serves as Director of Operations and Development at the Chicago Foundation for Education - an organization dedicated to improving the educational experiences of public school children.

Her debut novel, published by award-winning Cinco Puntos Press, has been recommended by the Assembly on Literature for Adolescents (ALAN). It's also been featured in the Kirkus Big Book Guide 2008 and as a summer must-read by Hispanic Magazine.

In her Athenaeum presentation, Claudia will read from her new novel and talk about the importance of writing the Latino experience for a young audience. According to U.S. Census Bureau estimates, Latinos now account for about one in four children younger than 5 in the United States. In ten years a quarter of the 10 to 14 year-olds living in the U.S. will be Hispanic (that statistic is closer to half in California). Yet, according to the Cooperative Children's Book Center at the School of Education at the University of Wisconsin-Madison, only about 2% of the 5,000 children's books published in the U.S. annually are by or about Latinos.

Claudia Martinez is the keynote speaker for the Claremont Colleges celebration of Latino Heritage Month and her visit is jointly sponsored by the Athenaeum and Chicano/Latino Student Affairs Center.