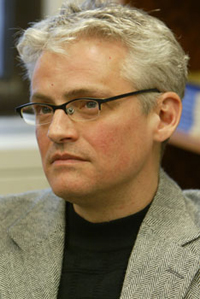 The Wilsonian Imagination in the Middle East: The King-Crane Commission Report of 1919
LEONARD SMITH
WEDNESDAY, SEPTEMBER 24, 2008
At the Paris Peace Conference of 1919, the United States was in the unusual position of making peace in the Middle East without ever having declared war on the Ottoman Empire. Frustrated with Allied machinations and stalling, President Woodrow Wilson sent an American commission to the region to make recommendations. The co-chairs were Henry Churchill King, president of Oberlin College, and Charles Crane, a Wilson fundraiser and self-financed foreign policy entrepreneur. The commission was charged with determining the views of "the people" in creating post-Ottoman territories and institutions. Their report, presented in August 1919, called for sweeping reorganization of the region under American sponsorship.

While it has always been easy to deride the report as "unrealistic," it remains of interest to scholars of the Middle East and foreign policy because of its detailed attempt to implement Wilsonianism in a volatile and strategic part of the world. Its recommendations carried to their logical conclusions universalist democratic principles as well as a version of Progressivism clearly inspired by Protestant theology. The King-Crane Commission Report was not "realistic," and did not seek to be. Rather, it sought both to create and implement new rules of international relations that would inform American thinking about foreign policy long thereafter.

Leonard V. Smith is William F. Podlich Distinguished Fellow at Claremont McKenna College for the Fall Semester 2008, and is Frederick B. Artz Professor of History at Oberlin College. At CMC, he is teaching a new course entitled "International Relations Theory for Historians," and is embarking on a new research project on the Paris Peace Conference of 1919. His most recent book is The Embattled Self: French Soldiers' Testimony of the Great War (Cornell University Press, 2007). He is also the author of Between Mutiny and Obedience: The Case of the French Fifth Infantry Division during World War I (Princeton University Press, 1994), co-author of France and the Great War, 1914-1918 (Cambridge University Press, 2003), and co-editor of France at War: Vichy and the Historians (Berg, 2000). Smith has held fellowships from the Rockefeller Foundation, the National Endowment for the Humanities, and the National Humanities Center, and has been a visiting professor at the École des Hautes Études en Sciences Sociales, the Université de Paris-VII, and in the Associated Kyoto Program at Doshisha University in Kyoto, Japan.