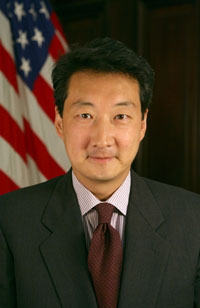 The Future of America's Preeminence in Asia
VICTOR CHA
MONDAY, SEPTEMBER 29, 2008
As the Bush administration enters its final months in office, the salient question on the minds of most Asians and many policy studies experts and academics is what sort of Asia will this administration leave to the next one, whether Democrat or Republican? Do the Beijing Olympics finally mark the point at which the United States has lost its preeminent postwar position in Asia? Is America's "Eastern Sunset" on the horizon? How has the United States handled relations with China? Have the alliance relationships with Japan and South Korea suffered? Where will the North Korea nuclear negotiations be when Obama or McCain take office? And what of America's position in Southeast Asia?

Helping us to answer these and other questions is Victor Cha, Director of Asian Studies and D.S. Song Chair in the Department of Government and School of Foreign Service at Georgetown University. He left the White House in May 2007 after serving since 2004 as Director for Asian Affairs at the National Security Council. At the White House, he was responsible primarily for Japan, the Korean peninsula, Australia/New Zealand and Pacific Island nation affairs. Dr. Cha was also the Deputy Head of Delegation for the United States at the Six Party Talks in Beijing, and received two Outstanding Service commendations during his tenure at the NSC.
He is the award-winning author of Alignment Despite Antagonism: The United States-Korea-Japan Security Triangle (Stanford University Press, 2000) (winner of the 2000 Ohira Book Prize) and co-author of Nuclear North Korea: A Debate on Engagement Strategies (Columbia University Press, 2004). He has written articles on international relations and East Asia in journals including Foreign Affairs, International Security, Political Science Quarterly, Survival, International Studies Quarterly, and Asian Survey. Professor Cha received a doctoral degree from Columbia University. He is a former John M. Olin National Security Fellow at Harvard University, two-time Fulbright Scholar, and Hoover National Fellow and CISAC Fellow at Stanford University. His new book Beyond the Final Score: The Politics of Sport in Asia (Columbia University Press) will be released in 2008.
The Keck Center for International and Strategic Studies at CMC is honored to sponsor Victor Cha as the Freeman Foundation Visiting Professor of Asian Affairs.